The Irish Child Pageant Storm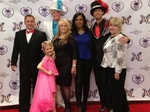 A revealing observational documentary exploring the often weird world of Universal Royalty Beauty Pageants as they travel to Ireland. This film goes behind the controversy and media hype that surrounded the first American style child beauty pageant of its kind to be held here.
We witness the determination of Texan based pageant supremo Annette Hill to stage the Irish event in the face of many objections from politicians and from those opposed to the very idea of children performing in this way.
As pageant day approaches Annette Hills Irish pageant is without a venue, the stress levels rise, and the tension begins to boil. Will it be a case of tantrums and tiaras?