TV50: Self Portrait: John B Keane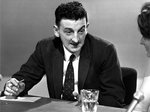 This intimate interview with John B Keane was first broadcast in 1963 after the playwright had experienced some success with 'Sive and 'Sharon's Grave', but was still an outsider to the world of Irish arts and letters.
In 1963, John B was a publican from Listowel still struggling for artistic acceptance. In this interview he speaks of a happy childhood and warm family life and shares his memories of his schooldays where, in the mood of the time, the purpose of education seemed to be to discourage ambition rather than to foster it. It was at school that he first learnt of the contempt with which an Irish boy from a poor background hoping to be a writer might have to endure.
He tells of the penury and lack of opportunity of an Irish youth in 50s Ireland. Like many others he took the boat to England. He speaks movingly of the loneliness and humiliations of his early years as an Irish emigrant and finally of his decision to move home and make his life in Kerry.
But this is not a sad interview. John B Keane laces his comments with his unique wit and humour throughout so the viewer is constantly caught between laughter and tears. He recites from 'Church Street' a love poem he wrote in his teens and had the temerity to read out in class to the disgust of his teacher. He also sings some verses from "Come all you true young Irishmen" including the lines, 'my case is sad, my crime is bad, for I was born poor', underlining his core sympathies with the poor and underprivileged.
The studio features Patrick Hennessy's painting 'The Exiles', now in the Hugh Lane Gallery Collection.