Second Captains Live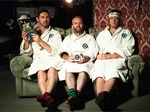 Series 5 will also see the lads take the show outside of Ireland for the first time, broadcasting live from Cardiff in front of the travelling Irish rugby faithful in October.
Expect more huge sporting names, more heated debate and more from the hugely popular slots such as Degrading Irish Superstars Action, Boring Irish Sporting Tweets and the Smoking Hall of Shame. Eoin, Ken and Murph are back on RTE2 from September 9th.
https://twitter.com/SecondCaptains