Second Captains Live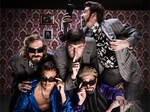 Second Captains Live returns next Wednesday night at 10pm on RTÉ2 and the boys want YOU to have your say on the top ten Irish sportspeople of all-time.
Who do you feel should be on the Good Wall? Make your change now, we'll compile your votes and make ONE swap before the show returns next week.
Here's the story of last series; Rory McIlroy regained his place on the wall courtesy of Henry Shefflin before being booted straight back off it by Paul McGrath. The golfers in general were having a hard time of it, with Padraig Harrington dismissed by Kieran Donaghy before Graeme Souness upset the nation when he kicked the Olympic and World Champion Katie Taylor off the wall for Liam Brady. Anthony Tohill passed up the chance to restore Katie to the Top 10, choosing instead to return Rory McIlroy, but in the final show of the series Anthony Daly welcomed Katie back at Number 4. But this was controversially at the expense of Irish soccer legend Roy Keane.