Roy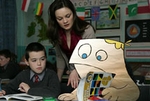 The award winning Irish young people's programme ROY returns for a brand new series combining hand-drawn animation with real-world drama. Starring Irish actors Simon Delaney and Cathy Belton, ROY is the world's first cartoon boy living in the real world. Nominated for two BAFTA awards, the critically acclaimed show returns for a second series with the first of 13 new episodes to be shown on TRTÉ beginning Friday 23rd March at 5.00pm.
This original comedy, filmed as a fly-on-the-wall documentary series, combines hand-drawn animation with real-world drama as it follows how one boy struggles to fit in. ROY thinks he's just like any normal 11-year-old. Born into a real world, he is an every-day kid living in an every-day house in an every-day street in the suburb of Ballyfermot in Dublin and inside he feels just like an ordinary kid. He shares the same hopes, aspirations, friendships and fallings out. The trouble is he's animated!
Based on the short film Badly Drawn Roy which was filmed under the Irish Film Board Frameworks scheme. ROY is produced by JAM Media in association with RTÉ Young Peoples Programming and commissioned by CBBC.