Rory Gallagher Ghost Blues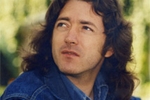 Rory Gallagher is an undisputed guitar icon to rock and blues enthusiasts around the globe. His contribution to rock music has had a significant impact on both musicians and music fans around the world.
This documentary features rare tracks from his formative years.
Gallagher single-handedly spearheaded the Irish rock movement and in the process blazed a trail for other Irish rock bands including Thin Lizzy and U2. His music quickly attracted global critical acclaim and listed John Lennon among their admirers.

Despite his untimely death arising from complications following liver transplant surgery, Rory's musical legacy continues to grow and inspire, with posthumous books, platinum selling albums and DVDs. There are also battalions of young 'tribute' bands worldwide keeping Gallagher's music alive.
RTÉ One, Thursday, 10.30pm