The Road to Rehab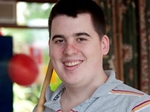 The Road to Rehab - The National Rehabilitation
The Road to Rehab is a two-part documentary from the RTÉ Television's Documentary Unit following the moving stories of eight patients travelling the road to post-injury rehabilitation at Dún Laoghaire's NRH.
The National Rehabilitation Hospital, Dún Laoghaire, Dublin, has no surgical teams. It offers no cures. Yet this 50-year-old, multi-disciplinary institution actively transforms lives. Since it opened doors in 1961, the NRH has treated over 40,000 patients. The team of medical consultants, therapists and technicians specialise in rehabilitating children and adults with irreversible brain and spinal injury as well as limb loss. The NRH's aim is to maximise the individual patient's ability as they face the challenges of life changing injury.
Episodes
Episode 1
Hugh Butler was 19-year-old business student at Maynooth when a critical brain tumour was diagnosed. He suffered a severe seizure, slipped into unconsciousness and was rushed to Beaumont for emergency surgery. In removing the tumour Hugh's life was saved but his short term memory was severely affected. He finds retaining new information extremely difficult, if not impossible. Hugh's tumour has also led to hyperfagia, a condition which affects the brain's appetite control. Hugh cannot easily remember when he last ate and is constantly, ravenously hungry. To date, Hugh is a medical enigma-there is no known similar case anywhere in the world.
Ayeisha Grogan is a secondary school science teacher. Driving into Kilkenny one evening, her car left a wet road. Ayeisha doesn't remember the accident. For six weeks and in a coma, she fought for her life at Dublin's Beaumont Hospital. Her injuries had caused the brain to swell so alarmingly much of her skull had to be removed. Surgery left her with half a skull and limited mobility on one side of her body. But Ayeisha is a fighter and hopes to see Kilkenny play in the All Ireland Hurling Final this year. If she can make it, she says, they certainly should.
When Joe Murray was five he was run over by an oil tanker and the lower half of his body was crushed. He spent years in pain and undergoing treatment. Despite efforts to keep his leg, it was finally amputated when he was 21. Joe hates wheelchairs but he has been on crutches so long his upper body is in danger of seizing up. Joe is in the NRH to get a prosthetic limb fitted and take his first step in 7 years.
Gavin O'Halloran from Cork has leukaemia. While battling with the disease, Gavin suffered a serious stroke which left him with speech, behaviour and mobility problems. His daily regime in the NRH is intense for such a small lad, but his Mother and greatest ally Emma, is always by his side.
Eighteen year old Tim Curran O'Brien was one of Kerry's rising hurling stars. But following a car accident the day after his Deb's Dance last year, Tim is now paralysed from the neck down. His challenges are huge but Tim has great fighting spirit and humour. Those are two qualities Tim has never needed more as he faces the road to rehabilitation.
Terry Kirwan is a 50-year-old roofer from Carlow. At work slating a house one day, Terry fell two stories. Although he has use of his arms, Terry is paralysed from the chest down. It has been difficult for his wife and family. Before the accident, Terry was active in sports and the outdoors. Every evening he would head over the fields with his nine dogs. Now his wife, Martina, worries how Terry will cope with life in a wheelchair.
RTÉ One, Tuesday 6 September, 10.20pm