Ripper Street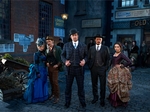 The streets of London's East End are awash with blood. But this is not the 19th Century; this is not Jack the Ripper - this is a copycat killer and once again the police remain clueless.
Season 2
Episode 1 - "Pure as the Driven"
Jack the Ripper may be fading into memory, but east London has found no peace. An investigation into the assault of a policeman leads DI Reid and the men of H-Division to the newly-emergent Chinatown, where Jackson discovers evidence of a new and devastatingly powerful opiate. Reid fears a new kind of hell is to be released onto his streets.
Episode 2 - Am I Not Monstrous?
The team are led into the world of circus freak shows following the murder of a woman with a tail-like protrusion at the base of her spine. With the assistance of Joseph Merrick, better known as the Elephant Man, Reid realises that his Limehouse colleague, Jedediah Shine, also has some involvement in the case. Meanwhile, DC Albert Flight arrives to replace Albert Hobbs.
Episode 3 - Ashes and Diamonds
Episode 4 - Your Father, My Friend
Episode 5 - Heavy Boots

Episode 6 - The Incontrovertible Truth

Episode 7 - Live Free, Live True

Episode 8 - The Peace of Edmund Reid

RTÉ One, Wednesday, 11.35pm