Ripper Street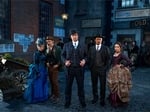 Six months after the Ripper's reign, Whitechapel police fight to bring law to the lawless.
Episode One - "I Need Light"
A young woman is found brutally murdered, the hallmark signs of the Ripper upon her. One time H Division boss, Chief Inspector Frederick
Abberline believes it Jack's return, but Reid - the precinct's new master - suspects a different evil at work.