Right Of Way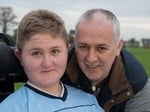 For the past 34 years disabled people in Ireland have had access to a government funded mobility allowance and motorised transport grant. The €208 means-tested, monthly mobility payment is given to those who can't walk; to help them lead a full and active life. In February 2013, the government announced the end of both schemes in their current form. Almost 5,000 claimants are worried about what travel provisions will replace them when the current schemes end in October.
RIGHT OF WAY is the story of three recipients of the grant. They explain why the mobility allowance is crucial to their daily lives and how the last four months have been full of uncertainty.
The stories include:
Seventeen-year-old soccer enthusiast Tom Winters who has been in a wheelchair since he was eight due to muscular dystrophy. Tom regularly makes a 270 km round trip from Trim to Limerick in order to play power soccer. With his father out of full time work, Tom's mobility allowance is vital for covering fuel costs.
In Rosslare Harbour, Sharon Colgan manages by herself despite being confined to wheelchair since a car crash. The mobility allowance affords her one weekly trip to Wexford for essential medical services, shopping and socialising. If her mobility allowance stops in October, so will some of the access to the care she needs.
Couple Frances and Paul Butler have been married 13 years. Both are wheelchair users but are active about getting out and living like any other couple. To that end they purchased a wheelchair accessible van, using a €50,000 loan. The mobility allowance is helping them to pay their borrowings back, bit by bit. The Butlers fear they won't be able to continue servicing the loan without the help of the allowance. If the van goes, so does their ticket to the outside world.