PSYCH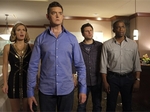 PSYCH is a quick-witted comedy/drama starring James Roday as young police consultant Shawn Spencer who solves crimes with powers of observation so acute that Santa Barbara PD detectives think he's psychic. Psych also stars Dule Hill as Shawn's best friend and reluctant sidekick, Gus, and Corbin Bernsen as his disapproving father, Henry, who ironically was the one who honed his son's "observation" skills as a child. Also featured are Timothy Omundson, Maggie Lawson and Kirsten Nelson.
Season 7
Episode 1 - Santabarbaratown
We pick up where we left off at the end of last season - Shawn has just realized his father's life is in danger.
Episode 2 - Juliet Takes a Luvvah
Shawn has a number of reasons for his jealousy. He's unhappy with Juliet's latest assignment, an undercover operation against an online dating site. And Gus isn't at his beck and call anymore. He's at his new girlfriend's disposal
Episode 3 - Lassie Jerky
The Bigfoot legend lures Shawn and Gus from civilization to the wilds when they join film students on their quest to document its existence.
Episode 4 - No Country for Two Old Men
Juliet's stepfather comes to town, and Shawn is determined to forge a relationship between the two dad. He just didn't think it would require a trip to Mexico to find Lloyd and his father after they are abducted.
Episode 5 - 100 Clues
A VIP party thrown by a has-been rock star turns into a murder mystery weekend for Shawn and Gus.
Episode 6 - Cirque du Soul
Gus' fun day at the circus with Rachel's son Maximus takes a turn for the serious.
Episode 7 - Deez Nups
Lassiter's long wait is finally over, and Marlowe has said "yes" to his proposal and a quick-but mostly tasteful-wedding at a casino resort. But first up is the bachelor party Lassiter didn't want, and how to deal with the crime lord seen at the casino who could end Lassiter's dream.
Episode 8 - Right Turn or Left for Dead
Rather than party after the successful conclusion of his case, Shawn turns unusually introspective. He re-examines every decision made to determine if he could have changed the outcome.
Episode 9 - Juliet Wears the Pantsuit
Shawn is his usual suspicious self about the new person in Juliet's life. Only this time he takes it a step further. He suspects the friend of murder. Elsewhere, he spends quality time with Woody.
Episode 10 - Santa Barbarian Candidate
A surfing accident creates a mayoral vacancy and Shawn decides political office may be his road to legitimacy.
RTÉ TWO, Saturday, 3.35pm