Pioneers and Aviators, A Century of Irish Aviation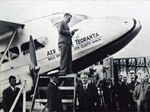 The two part documentary traces Ireland's aviation history from its humble beginnings when Alcock and Brown made the first transatlantic flight, landing in a bog in the West of Ireland, to the arrival of flying boats in Foynes with their glamorous movie-star passengers.
It charters the evolution of Aer Lingus, the development of airports at Shannon and Dublin, and the World's first Duty-Free shop at Shannon.
It also examines the pivotal emergence of Tony Ryan, the meteoric rise and fall of GPA, and the enduring dominance of Ryanair. Culminating finally in the present day story of Ireland's leading role in the global multi-billion dollar aircraft finance sector. Contributors include Former Aer Lingus CEO Willie Walsh, Boeing's CEO Ray Conner, Imelda Staunton, Peter Sutherland and former Minister for Transport Desmond O'Malley.
Produced by Newgrange Pictures (Stella Days, Kings, Hotpress) and made with the support of Avolon, the international aircraft leasing group, it is directed by the award winning Irish director Alan Gilsenan (The Yellow Bittern, Eliza Lynch). Renowned Irish composer Mícheál Ó Súilleabháin has written the score working with the RTÉ Concert Orchestra.
Only Ireland has this unique story, a story yearning to be told, a story of which we can all be proud. A story that is still being written.
Episodes
Episode 1
Part one of the documentary takes off with the first non-stop transatlantic flight into Ireland by Alcock and Brown landing in a bog in Clifton, Co. Galway. The more difficult return flight to America introduces the debonair Irish Pilot Commandant James Fitzmaurice, who makes Ireland's first true mark on aviation history. Ireland's geographical location means it becomes a gateway between Europe and the Americas, as the small port town of Foynes becomes a hub of activity with the arrival of the flying boats.
The birth of Aer Lingus alongside the development of Dublin and Shannon airport swiftly move Ireland into the modern era. The glamour of the early days of air travel is told first-hand from Aer Lingus' very first air hostesses, along with their pride working for their national carrier.
As Ireland was slowly beginning to open up to the world and aviation was becoming a growing part of the nation's industrial development, the inherent danger of air travel became evident in the more serious plane crashes of the sixties.
The oil crisis in the 1970's, economic stagnation and international terrorism had severely affected the airline business. However, one man, by the name of Tony Ryan, would emerge that would eventually transform aviation in Ireland and beyond.
RTÉ One, Thursday, 10.25pm