Pet Island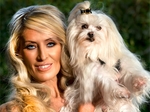 Pet Island is an entertaining series about people who are taking pet ownership to another level. Filmed on location throughout Ireland, this endearing series features a cast of quirky characters and explores their love for ferrets, budgies, raccoons, alligators and of course cats and dogs. Pet Island is packed with laugh out loud moments which will have chins and tails wagging throughout the country.
The series was produced by Ronin Films for BBC NI & RTÉ.
Episodes
Episode 1
Jacqueline Hopkins from Castlebar has a photoshoot with a sick ferret. In Kildare Martin and Jennifer get their dogs ready for competition and in Belfast we meet Loca, a special pug who has become an internet celebrity.
In the opening episode of Pet Island we travel to Castlebar where we meet Jacqueline Hopkins and her fiancée Darragh McDonagh. The couple have a house full of pets including beloved ferrets Walter and Raphael. The ferrets are getting on a bit though and Jacqueline decides to have a professional photo shoot done so as to remember them in years to come.
We also travel to Kildare where we meet Martin Bailey and his fiancée Jennifer Duggan. The couple are besotted by their dogs which includes Old English Sheep Dog Guapo and five maltese. We find out about the couple's love for the dogs and each other and follow Martin to a competition in Dublin. In Belfast, we meet internet sensation Loca, also known as 'the pug that couldn't run'. Loca's vidoes online have had over ten million views on youtube alone.