Person Of Interest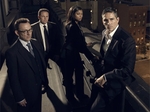 PERSON OF INTEREST stars JIM CAVIEZEL (The Thin Red Line), Emmy winner MICHAEL EMERSON (Lost), Oscar nominee TARAJI P. HENSON (Hustle & Flow) and KEVIN CHAPMAN (Mystic River) in a crime thriller about a presumed-dead former CIA agent, John Reese (Caviezel) who teams up with mysterious billionaire Harold Finch (Emerson) to prevent violent crimes with high-tech surveillance and their own brand of vigilante justice.
Reese's special training in covert operations appeals to Finch, a software genius who invented a program, aka "The Machine," that can identify people soon to be involved in violent crimes. Tapping into ubiquitous surveillance feeds throughout the city, the two work outside of the law, combining Reese's black ops skills with Finch's technological prowess and unlimited wealth to unravel the mystery of the person of interest, and stop the crime before it happens.
Reese's actions draw the attention of the NYPD, including by-the-book homicide detective Joss Carter (Henson). After initially pursuing Reese as a criminal, Carter now shares in his pursuit of justice. Also working with Reese and Finch is Detective Lionel Fusco (Chapman), a onetime corrupt cop who began as Reese's unwilling pawn, but now views their missions as a chance at personal redemption. With infinite crimes to investigate, Reese and Finch find that the right person, with the right information, at the right time, can change everything.
With Finch missing - kidnapped by his hacker nemesis, Root (guest star AMY ACKER) in last season's finale cliffhanger - Reese enlists Detectives Carter and Fusco to join the search for his friend on the second season premiere. But can they continue without him? Meanwhile, The Machine never sleeps and issues a new number to Reese. KEN LEUNG (Lost) guest stars as the latest Person of Interest