Pension Shock: The Future Is Now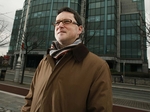 George Lee returns with a special one hour documentary - Pensions Shock: The Future is Now - that looks at the looming pensions crisis. From the top down pensions are fast becoming unaffordable and everyone faces a more difficult retirement than the one they imagined. It has the potential to add further misery to an already beleaguered nation unless we face the problem soon.
Like the rest of the western world the Irish population is aging and there is not enough money to pay for our retirement. A million or more people rely on the state pension and inevitably they will see their income cut over the coming years. Those on occupational pensions are facing a more uncertain future, with many pension schemes in meltdown. The only place you might feel secure is on a public service pension - but the state can't afford them anymore either.
This is an urgent issue that will affect everyone - in essence, the equivalent of another banking crisis unfolding over a longer period of time. How did we get here - and is it already too late to do anything about it?
George Lee looks at the all aspects of pension provision in Ireland today and reveals a very worrying picture. The state is facing a pensions bill that is only going to get bigger and with the banking crisis eating up our reserve it is unclear where the money is going to come from to pay for us in our old age. Private pension cover too is inadequate with many young people struggling just to pay the mortgage never mind a pension. At present the future is bleak and requires a significant rethink if we are not to find ourselves in an even deeper financial hole than at present.
George travels across the country to meet beleaguered pensioners who have lost almost everything, an elderly couple who on advice sank all their savings into bank shares as their nest egg, young people who right now are in no position to think about a pension.
He talks to a range of experts who disagree on the detail, but all agree that we are facing real difficulties into our future if we do not address the deficiencies in the system soon. We have an opportunity now to fix this problem if we are brave enough to do so.
Contributors include:
David Harney - Irish Life
Ed Whitehouse - OECD
Mike Kemp - Irish Insurance Federation
Jill Kerby - Personal Finance Journalist
Fergus Whelan, Industrial Officer, ICTU
Jerry Moriarty - Head of Policy at the Irish Association of Pension Funds
Jim Stewart, Senior Lecturer in Finance, Member of Pension Research Policy Group, TCD.
Paul Kenny, Pensions Ombudsman
Aidan McLoughlin, MD of Independent Trustee Company
Ros Altman, Pensions Expert and CEO of SAGA
Jim Stewart - TCD
Jerry Moriarty - IAPF
Minister Joan Burton - (TBC)
Charlie Weston - Irish Independent
Alan Brown - Group Chief Investment officer at Schroeder's
RTÉ One, Monday 17 October 2011, 9.35pm
Related link: