RTÉ News and Current Affairs: One to One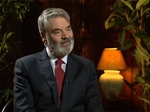 Proinsias de Rossa was born in 1940 in Dublin's North inner city. He was President of the Worker's Party and subsequently leader of Democratic Left. He was Minister for Social Welfare from 1994 to 1997 and an MEP for Dublin twice, once between 1989 till 1992 and again from 1999 until his resignation in January of this year.
During the extensive interview with Aine Lawlor on his political life, he discusses the split in the Workers' Party in 1982 and says that he regretted very much that he "never spoke one word to the late Tomas MacGiolla after I walked out of a Workers' Party meeting in 1992 - which is a great regret to me. It still hurts because we were very close."
He believes that: "It was a mistake to drop the water charges and property taxes during the Fine Gael, Labour and Democratic Left Rainbow Coalition of 1994 - 1997 and a mistake to overnight drop Third Level fees which were introduced by Niamh Breannach."
Regarding the EU, he says that "The problem with the European Community is that there is an over-emphasises on a single market as distinct from creating a European Union of people."
One to One, Monday 24th September, 11.40pm, RTÉ One and repeated on Sunday 30th September at 10.30am, RTÉ One.