Novena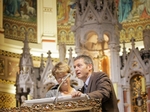 Novena is an award-winning short documentary film that captures the ground-breaking moment when a Catholic priest invited two members of the LGBT community to address his congregation and speak of their experiences of being gay and lesbian in Ireland and growing up feeling excluded by Catholic doctrine. Having been inspired by the story of a mother in his church, who recounted her gay son's feelings of rejection by the catholic community, Fr. Michael Cusack chose to make the theme of this Novena- The courage to be yourself. He reached out to Kay Ferriter and Stephen Vaughan, two members of the LGBT community, and invited them to speak. Knowing his community to be a welcoming one, he hoped that the outcome would be positive. Novena documents their powerful speech and the aspirations of one priest for a more inclusive church.
Novena was completed through crowd funding on the website Fund:It. It won Best Documentary at the Kerry Film Festival 2013, Best Film & Television at GALAS 2014 and was joint winner of Spirit Of The Festival at GAZE LGBT Film Festival 2013.
Directed by Anna Rodgers, Produced by Anna Rodgers & Hugh Rodgers, Edited by Patrick Hodgins & Hugh Rodgers, Filmed by Kate McCullough & Eleanor Bowman, Music by A Winged Victory For The Sullen.