news2day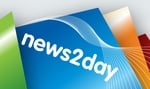 news2day is the RTÉ News service designed specifically for children.
The programme is aimed at young people between the ages of seven and 12 approximately and contains Irish and international news of interest to a young audience - including annual visits to the Young Scientist Exhibition and visits to Green Flag schools.
It is presented in an accessible and child-friendly manner and gives a voice to young people with substantial direct input from children themselves.
news2day transmits each weekday at 4.50pm.
The programme can be accessed on: www.rte.ie/news2day
and contacted by email at: news2day@rte.ie

Do you have a comment for the news2day team?
Text NEWS2DAY followed by your comment to 51101
From Northern Ireland, text NEWS2DAY followed by your comment to 87103
Texts charged at standard network rate.
Ask bill payer's permission.
SP Xiam Interactive Ph 01 4832010
Not all comments will be published
RTÉ Two, Weekdays, 4.50pm
Visit the website