New Girl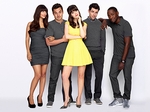 Taking a modern look at friendship and romance, ensemble comedy NEW GIRL enters its fifth season with an uninterrupted run of all-new episodes that are full of change for its group of five friends, their inter-connected romantic exploits and their often hilariously misguided attempts to find their respective places in the world.

As the series' fourth season came to a close, the loft mates were faced with some happy and bittersweet adjustments. Jess (Emmy® and Golden Globe® Award nominee Zooey Deschanel) and Nick (Jake Johnson) each moved on from their romance, while secretly leaving the door open for a future reconciliation. Schmidt (Emmy® and Golden Globe® Award nominee Max Greenfield) proposed to his on-again, off-again girlfriend Cece (Hannah Simone), who happily accepted. Winston (Lamorne Morris) took a major step towards adulthood by becoming a dedicated police officer and Coach (Damon Wayans, Jr.) moved out of the loft and headed to New York City.

In the upcoming fifth season, NEW GIRL will celebrate its landmark 100th episode. Jess will realize she would rather spend time with her date's (guest star Taran Killam) parents (guest stars Henry Winkler and Julie Hagerty) than him; Cece's mother (guest star Anna George) arrives in town for her daughter's engagement party; and Nick and Schmidt try to run the bar and turn the loft into an Airbnb while Jess is on jury duty. Additional guest stars include Fred Armisen (Portlandia), Rob Riggle (FOX NFL Sunday), John Cho (Sleepy Hollow) and Nasim Pedrad (Scream Queens).

Premiering in 2011, NEW GIRL has been nominated for five Emmy® Awards and five Golden Globe® Awards. In its debut season, the series earned a Writers Guild Award nomination for Outstanding Achievement in Television - New Series; and this past year, received a nomination for Outstanding Achievement in Television - Episodic Comedy.
NEW GIRL is produced by Chernin Entertainment in association with 20th Century Fox Television. The series was created by Elizabeth Meriwether. Meriwether, Brett Baer, Dave Finkel, Jake Kasdan, Peter Chernin and Katherine Pope are executive producers, with Meriwether, Baer and Finkel serving as co-showrunners/writers and Kasdan directing multiple episodes of the series.

NEW GIRL is distributed by 20th Century Fox Television Distribution.