Nationwide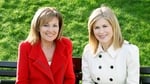 Presented by Mary Kennedy and Anne Cassin, Nationwide brings Irish viewers an eclectic round-up of news, views and events from around the country.
Programmes
MONDAY 20TH April
PEOPLE WITH CHALLENGES
We have stories of some inspirational people who have overcome certain disadvantages in their lives in order to get on with the simple things that the rest of us take for granted.
DARRAGH MCDONALD/REPORT HELEN MCINERNEY
We all face challenges from time to time and it's how we deal with those challenges that make us the people we are but spare a thought for the young man who was born with no legs below his knees and with a lower arm missing. His parents did not wrap him up in cotton wool, instead they encouraged him to live a normal life and to dream. That dream culminated in him competing for Gold in the Paralympic Games in London. Helen McInerney has the story.
Website: www.paralympics.ie
Website: www.careandmobility.ie
Contact: Christine Duggan, DM PR
Telephone: (028) 38922
Website: www.dmpr.ie
Email: christine@dmpr.ie
Website: www.irishsportscouncil.ie
CARE & MOBILITY/REPORT VALERIE WATERS
Next we meet a young man of 21, who last year had a serious work place accident. After months of treatment in the National Rehabilitation Hospital in Dun Laoghaire, he's back working again. Valerie Waters went to meet Garry O'Reilly in County Laois, where he's one of the team in a busy wholesale business.
Contact: National Rehabilitation Hospital, Dun Laoghaire
Telephone: (01) 235 5000
Website: www.nrh.ie
Email: enquiries@nrh.ie
CYSTIC FIBROSIS WEEK/REPORT VALERIE WATERS
Today is the beginning of Cystic Fibrosis Awareness Week. On Friday, it is hoped that the generousity of the public will raise much needed funds for research, new health facilities and patient grants. Reporter Valerie Waters met up with two families in North Dublin who are affected by C.F. and to see how they get on with everyday activities despite the challenges.
Contact: CF House, 24 Lower Rathmines Road, Dublin 6
Telephone: 1890 311 211
Website: www.cfireland.ie
Email: info@cfireland.ie
WEDNESDAY 22ND APRIL
DUBLIN BAY PROGRAMME
We take in the some of the beautiful scenery of Dublin's coastline from the Dart and we meet John McColgan of Riverdance fame who snaps up all the good views of his beloved Howth for a photography exhibition in aid of the RNLI. Plus we hear about Dublin Bay prawns and their annual festival.
DART JOURNEY/REPORT ANNE CASSIN
Dublin Bay is this perfect C shape, made up of a string of coastal villages, rugged cliffs and sheltered coves spreading towards Howth in the north and southeast towards Killiney. Anne Cassin takes the scenic route around Dublin's magnificent coastline on the Dart and re-lives the idea of poetry in motion with the help of some poets and passengers.
HOWTH/REPORT ORLA WALSH
For many the name John McColgan will stir up thoughts of Irish dance and stage but in recent years he has spent his time nurturing his love of photography. This month his first photographic exhibition opened in Howth with all proceeds from the sale of his work going to the RNLI service there. John spoke to reporter Orla about his love for the seaside village.
Website: www.howthlifeboat.ie

PRAWNS/REPORT JOHN KILRAINE
Dublin Bay Prawns have been part of the Irish dining experience for generations and the fishing village of Howth is holding its Annual Prawn Festival this weekend to highlight the importance of this resource to the national economy. Reporter John Kilraine decided to go along and find out more about the history of this internationally recognised brand.
Website: www.dublinbayprawnfestival.ie
FRIDAY 24TH APRIL
DONNCHA Ó'DÚLAING/REPORT NIALL MARTIN
We meet veteran Irish broadcaster Donncha Ó'Dúlaing from County Cork. This year marks the 50th anniversary of the start of Donncha's career in RTÉ Radio and Television. Reporter Niall Martin caught up with him for a chat as he prepared his penultimate show last Saturday.
Twitter: @RTENationwide
Email: nationwide@rte.ie
Programme Enquiries to: nationwide@rte.ie

RTÉ One, Monday, Wednesday & Friday, 7.00pm
Visit the website