Nationwide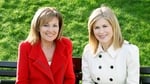 Presented by Mary Kennedy and Anne Cassin, Nationwide brings Irish viewers an eclectic round-up of news, views and events from around the country.
Programmes
MONDAY 30TH MARCH
ROAD TO THE RISING PROGRAMME
On Nationwide this evening, Dublin's O'Connell street takes centre stage as plans for a major event are unveiled to commemorate the Easter Rising of 99 years ago. We visit the sights associated with the Rising and we get a sense of how Dubliners feel about the plans for the centenary celebrations for next year.
Website: www.rte.ie/1916
1916 TOUR/REPORT ANNE CASSIN
For anyone interested in the 1916 Rising one of the best ways to get a flavour of the main events is by tour bus through the city of Dublin. The 1916 Freedom Tours are set to be launched in a few days time but last week Anne Cassin met up with the men behind this enterprise and she got her own sneak preview.
Contact: 1916 Freedom Tour, Unit B15, South City Business Centre, Tallaght, Dublin 24.
Telephone: + 353 1 531 1916
Website: www.1916tour.ie
E-mail: info@1916tour.ie
1916 MEMORABILIA/REPORT COLM FLYNN
One of the highlights of the Road to Rising event on Easter Monday will be held in the GPO where people are being asked to bring along items from the period, to have them assessed by experts. Reporter Colm Flynn has been to meet some people who have discovered some interesting items from the time.
WEDNESDAY 1ST APRIL
GALWAY FOOD FESTIVAL
This evening we are in the City of the Tribes focusing on the efforts to promote this great city and county as a premium Irish food producing region with some amazing chefs and restaurants where the food produced is available for all to experience. Over the next few days, the Galway food festival will be in full swing with locals and visitors invited to sample the best of what Galway produces and cooks up.
Website: www.galwayfoodfestival.com
Email: info@galwayfoodfestival.com
FOOD BUSINESSES/REPORTER MARIAN MALONE
County Galway is replete with local artisan food producers and agri-businesses, many of which will be taking part in this weekend's Galway Food Festival. Reporter Marian Malone visited three of these successful food producers in the South and the East of the county.
Contact: Beechlawn Organic Farm, Beechlawn, Ballinasloe, County Galway
Phone: 353 (0)90 9646713
Website: www.beechlawnfarm.org
Email: info@beechlawnfarm.org
Facebook: www.facebook.com/TribesBeekeepersAssociation
GOAT'S CHEESE/REPORTER AINE LALLY
Aran Island's Goat's Cheese will feature as part of this year's Galway's Food Festival. The farm is located on Inis Mór, the largest of the Aran Islands, and is run by the Faherty Family. Gabriel, formerly a fisherman and his wife Orla, are indigenous entrepreneurs on the Island which is off the West Coast. All the production from milking the herd of goats to the packaging of the goat's cheese is carried out by locals on Inis Mór.
Email: biaarann@gmail.com
FRIDAY 3RD APRIL
GOOD FRIDAY PROGRAMME
On tonight's Nationwide programme we have stories of Faith and compassion as we celebrate Good Friday, a day in which Christians commemorate the passion and death of Jesus Christ. We visit Carlow where Christians of different denominations have come together to provide a facility to support those in the community who have difficulty and need help. This centre in Graiguecullen just outside Carlow is known as Saint Clare's Hospitality and we'll be meeting some of these volunteers and hearing about their work.
TEXT PRIEST/REPORT COLM FLYNN
We begin our Good Friday programme in Limerick city, where a local Priest has used the Lenten period to spread good news. Reporter Colm Flynn has been to Moyross to see how technology is bringing a positive message to local people.
PASSION PLAY/REPORT MARY FANNING
Passion plays outlining the final period of the life of Jesus until his crucifixion and replicating the Oberammergau tradition in Bavaria, Germany, which has been performed there since 1634, are taking place all over Ireland bringing communities together to tell the greatest 'story ever told'. Mary Fanning went to Ballylinan in County Laois where 180 ordinary folk work very hard to produce their Passion play and they've been doing this for the last number of years.
Twitter: @RTENationwide
Email: nationwide@rte.ie
Programme Enquiries to: nationwide@rte.ie

RTÉ One, Monday, Wednesday & Friday, 7.00pm
Visit the website