Nationwide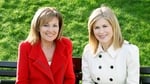 Presented by Mary Kennedy and Anne Cassin, Nationwide brings Irish viewers an eclectic round-up of news, views and events from around the country.
Programmes
MONDAY 25TH APRIL


CHERNOBYL PROGRAMME

This evening Nationwide marks the 30th Anniversary of the Nuclear Disaster at Chernobyl. Mary Kennedy meets Ali Hewson and Adi Roche, two Irish women whose humanitarian work has changed the lives of thousands of children in Eastern Europe. The Nuclear accident in Chernobyl was the catalyst that brought Ali Hewson and Adi Roche together and since then, through the charity, Chernobyl Children International, they've raised over 100 million euro to support people in need in Belarus and Ukraine. Also on the programme is Cork's Lord Mayor Chris O'Leary who recently travelled with a delegation to the Chernobyl area to see the work of the charity organisation first hand. Plus we speak to Irish Examiner Journalist Eoin English who recently returned from Chernobyl.

Website: www.chernobyl-international.com



WEDNESDAY 27TH APRIL


PAN AM/REPORT MARIAN MALONE
Although Pan American Airlines ceased trading a quarter of a century ago, former employees and associates reunite regularly to renew friendships and reminisce about the glory days of this pioneering airline, when flying was a magical and glamorous career. The global Pan Am family came together again recently in Limerick, in what was to be the final Pan Am World Reunion, and only the second ever to be hosted in Europe. Reporter Marian Malone went along to meet them.

Contact: Foynes Flying Boat & Maritime Museum
Telephone: +353 (0)69 65416
Website: www.flyingboatmuseum.com

Website: www.panam.org


AMATEUR DRAMA FESTIVAL/REPORT COLM FLYNN
Ahead of this year's Amateur Drama Festival in Athlone, reporter Colm Flynn has gone to visit two of the local amateur drama groups who are finalists in this year's competition. They are the Palace Players in Kilworth, Fermoy, and the Dalkey Players in Dublin.


FRIDAY 29TH APRIL


FOOD WORKS PROGRAMME

This evening we have food and drink on the menu. We find out all about a Food Works Programme which is a joint initiative between Enterprise Ireland, Bord Bia and Teagasc. This initiative promotes and fosters food businesses in Ireland and helps them get their products to market faster. We meet some of the businesses who participated in this project and who are flying the flag for Irish products.


Website: www.nutraplenish.com

Website: www.jackdoylesbrewery.ie

Website: www.iascseafood.com

Website: www.wicklowwolf.com
Website: www.organiclittleone.com

Facebook: www.facebook.com/Beanandgoose




LISMORE FOOD COMPANY/REPORT BARRAÍ MESCALL
Another successful business which went through the Food Works programme is the Lismore Food Company. Reporter Barraí Mescall went to the beautiful town of Lismore in County Waterford to pay them a visit.


Contact: The Lismore Food Company, The Summerhouse, Main Street, Lismore, Co. Waterford
Telephone: +353 86 171 2813
Website: www.thelismorefoodcompany.com
Email: info@thelismorefoodcompany.com
Twitter: @RTENationwide
Email: nationwide@rte.ie
Programme Enquiries to: nationwide@rte.ie

RTÉ One, Monday, Wednesday & Friday, 7.00pm
Visit the website