Nationwide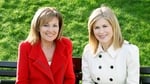 Presented by Mary Kennedy and Anne Cassin, Nationwide brings Irish viewers an eclectic round-up of news, views and events from around the country.
Programmes
MONDAY 16TH NOVEMBER
IRISH CRAFT & DESIGN PROGRAMME
DESIGN HOUSE/REPORT ANNE CASSIN
We are in Dublin for the first of our three programmes on Irish Craft and Design. The Design House is a relatively new retail addition to the street but already it's causing quite a stir. The retail space inside is taken up by Irish crafts people and the shop allows them a shop window for their products.
Contact: The Design House, 43 Dawson Street, Dublin 2
Telephone: (01) 679 9283
Website: www.thedesignhouse.ie
Email: info@thedesignhouse.ie

FELT MAKER/REPORT VALERIE WATERS
We meet another crafts person whose wares you can find at the Design House in Dublin. Reporter Valerie Waters has been to Harold's Cross in the capital to meet felt-maker Niki Collier.
Contact: Niki Collier, Greenmount Industrial Estate, Harolds Cross, Dublin 12
Telephone: (0)87 661 5066
Website: www.nikicollier.com
Email: herself@nikicollier.com

WICKLOW FURNITURE/REPORT HELEN MCINERNEY

One of the emerging designers showcasing his work at the Design House in Dublin is Wicklow based Killian Jackson. As a designer he focuses on locally sourced materials and hand crafted pieces and one of his most unusual creations is his Irish take on a Japanese Tea House. Reporter Helen McInerney recently visited him at his workshop near Wicklow town.
Website: www.faolan.ie
Email: killian@faolan.ie
WEDNESDAY 18TH NOVEMBER
This is the second of three programmes on Nationwide this week featuring Irish Craft, design and fashion. On our journey we visit some Irish craftspeople in their workshops in Waterford and we check out a one stop shop for Irish craft and design in Dublin. We begin in Kilkenny, which has long been associated with the very best of craft and design and is the home of the craft council of Ireland.
Contact: Crafts Council of Ireland
Website: www.giveirishcraft.com
Contact: The Kilkenny Shop
Website: www.kilkennyshop.com
Contact: Willow and Wild, 15 New Bailey's Street, Waterford
Website: www.willowandwild.com
Contact: Button & Co
Website: www.buttonandco.com
Contact: Irish Handmade Glass
Website: www.theirishhandmadeglasscompany.com
Contact: Emerald Handmade Irish Crystal
Website: www.emerald-crystal.com
Contact: Paul Maloney Pottery
Website: www.paulmaloneypottery.ie
Contact: McNutts Donegal Woollen Mills
Website: www.donegalwoollenmill.com
Contact: Nic And Ali Confectionary
Website: www.nicandali.ie
Contact: Foxford Woollen mills
Website: www.foxfordwoollenmills.com
Contact: Rebecca Kahn
Website: www.rebekakahnartwear.com
Contact: Karo Art
Website: www.karoart.eu
Contact: Jennifer Slattery
Website: www.jenniferslatterytextiles.com
FRIDAY 20TH NOVEMBER

DESIGN PROGRAMME

We visit DIT's new Grangegorman campus where young Irish designers are displaying their graduate projects.
ORLA REYNOLDS/REPORT ANNE CASSIN

Two years ago we came across an Irish furniture designer Orla Reynolds just as she completed her degree at DIT. Now she has her first product ready for market and Anne Cassin went along to her design space at the Institute of Technology at Tallaght to see it.
Website: www.orlareynolds.com
PALLET FURNITURE/REPORT NIALL MARTIN

Design is the thought process that goes into making something and you can't get more down to earth than a pallet. Reporter Niall Martin has been to a pallet furniture workshop to see what can be made from the humblest of items.
Website: www.furniturerecyclingdublin.com
FAB LAB/REPORT ANNE CASSIN

We travel to Manorhamilton to see some high tech design gadgetry now available in rural Leitrim. Anne Cassin visited the unusual workshop called the Fab Lab which is rather cutting edge.
Contact: Fab Lab, Park Road, County Leitrim
Telephone: (087) 6286808
Website: www.fablabmh.org
CAMPHILL/REPORT NIALL MARTIN

Our final story takes us to Callan in County Kilkenny where a London architect has been working with an artist to design his cosy living space. Reporter Niall Martin went along.
Website: https://vimeo.com/125069723 (To see Éamonn Little's short film on Francis Casey)
Website: https://vimeo.com/111265171 (To see how architects have been engaging with residents of Camphill)
Twitter: @RTENationwide
Email: nationwide@rte.ie
Programme Enquiries to: nationwide@rte.ie

RTÉ One, Monday, Wednesday & Friday, 7.00pm
Visit the website