Nationwide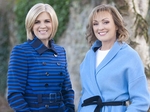 Presented by Mary Kennedy and Anne Cassin, Nationwide brings Irish viewers an eclectic round-up of news, views and events from around the country.
Programmes
MONDAY 17TH APRIL
BANK HOLIDAY - NO PROGRAMME

WEDNESDAY 19TH APRIL
DUFFY'S CIRCUS PROGRAMME/REPORT ANNE CASSIN
On this evening's Nationwide we are in Galway as Duffy's, one of the world's longest surviving circuses, arrives in the city. We get a taste of Circus Life outside and inside the Big Top. We meet three generations of the family behind the name and explore this magical world which continues to enthrall and delight.
Website: www.duffyscircus.com
Email: info@duffyscircus.com
FRIDAY 21ST APRIL
GRAND NATIONAL PROGRAMME
We celebrate all that is good at the 146th running of the Irish Grand National at Fairyhouse racecourse with a prize purse of 500,000 euro. Anne Cassin is out and about at the meeting and she meets Rita Shah who on the request of her business partner, the late Oliver Brady, one of the most enigmatic characters in Irish racing, has raised nearly 750,000 euro to donate a gene sequencing machine for the Mater Hospital. This machine will identify potential life threatening conditions early and save lives through intervention. Anne also speaks to racecourse manager Peter Roe about running and event of this size and why it is called the race of people. She will also speak to some of the ladies who have dressed up for the event. Plus Mary Fanning meets horse trainer Gordon Elliott and Helen McInerney goes back in time and visits the Dreaper yard in Co. Dublin.
Contact: Fairyhouse Rd, Ballybin, Ratoath, Co. Meath
Telephone: (01) 825 6167
Website: www.fairyhouse.ie
Contact: Shabra Charity Foundation, Killycard Industrial Estate, Bree, Castleblayney, Co. Monaghan.
Telephone: +353 42 9749444
Website: www.shabracharity.com
Email: info@shabracharity.com
JIM DREAPER/REPORT HELEN MCINERNEY
Fairyhouse is steeped in 146 years of history and the Dreaper family, who train in Greenogue, Kilsallaghan, have an impressive history when it comes to Irish Grand National wins, with Tom Dreaper Snr winning ten Irish Nationals and his son Jim the winner of four. The family have continued the great training tradition, that included the greatest national hunt racehorse of them all, Arkle. Helen McInerney recently took a trip down memory lane.

Contact: Dreaper Racing, Greenogue, Kilsallaghan, Co. Dublin
Telephone: 00 353 1 8350187
Website: www.dreaperracing.com
Email: info@dreaperracing.com
GORDON ELLIOTT/REPORT MARY FANNING
Mary Fanning goes behind the scenes at Cullentra Stables, in County Meath the home of Ireland's most exciting young racehorse trainer Gordon Elliott and travels with his team to Thurles racecourse.
Contact: Cullentra House, Cullentry, Longwood, Co. Meath
Telephone: (046) 955 5051
Website: www.gordonelliottracingclub.com
Email: zoe@gordonelliottracing.com
Twitter: @RTENationwide
Email: nationwide@rte.ie
Programme Enquiries to: nationwide@rte.ie

RTÉ One, Monday, Wednesday & Friday, 7.00pm
Visit the website