Nationwide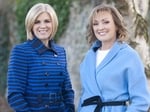 Presented by Mary Kennedy and Anne Cassin, Nationwide brings Irish viewers an eclectic round-up of news, views and events from around the country.
Programmes
MONDAY 24th JULY
CLARE ISLAND PROGRAMME
Clare Island is one of Ireland's most beautiful and is the first of three islands we visit off the West coast of Ireland on Nationwide this week. Located 5.6 kms off the coast of Mayo, Clare Island is situated at the mouth of Clew Bay. At 8 kms long and 5 kms wide, it's the largest of Co. Mayo's offshore islands. The Island has a very dramatic coastline which offers a striking silhouette against the horizon when viewed from the mainland. It's a paradise for lovers of outdoor pursuits but it's also a place of retreat for anybody looking for peace and solitude. On tonight's programme we'll be giving you a flavour of what this stunning island has to offer, focusing on its long history and we'll be finding out from it's people what life is really like on an island off the West coast of Ireland.
Contact: Carl O'Grady, Go Explore Hostel & Sailors Bar & Restaurant
Telephone: (098) 26307
Website: www.goexplorehostel.ie
Contact: Clare Island Adventures
Telephone: (087) 3467713
Website: www.clareislandadventures.ie
Website: www.clareisland.ie
Website: www.mayo.ie
WEDNESDAY 26TH JULY
INISHTURK PROGRAMME
This evening we've taken the ferry to another of the beautiful islands off the West coast of Ireland - this time it's Inishturk Island, Inis Toirc in Irish which translates as 'Island of the Wild Boar'. This small attractive island is located fourteen and a half kilometre off the coast of Co. Mayo, between the islands of Clare and Inishbofin. Inishturk is only five kilometres long and two and a half kilometres wide and yet it's rich in archaeological and historical sites and breathtaking scenery. This beautiful tranquil island, sits atop cliffs and steep hills that drop down to the Atlantic. From secluded sandy beaches with fantastic clear blue waters to breathtaking pathways and trails and wonderful views it has much to offer the visitor. But what makes Inishturk special is the friendliness and hospitality of its people and on tonight's programme we're going to be meeting some of them who call this beautiful place home and we'll also be enjoying the delights of island life.
Website: www.inishturkisland.com
Website: www.mayo.ie
FRIDAY 28TH JULY
INISHBOFIN PROGRAMME
Our final trip this week is to Inishbofin - the small island with a big personality. Inishbofin is situated 10 kms off the north Connemara coast, in Co. Galway. It's only a 30 minute crossing from the fishing village of Cleggan and just a few minutes drive from Clifden. Inishbofin is derived from the Irish name Inis Bó Finne meaning 'Island of the White Cow'. It's just five and a half kilometres long by three kilometres wide and is home to around 175 people. It boasts a rich history and culture with a deep musical tradition and is renowned for its white sandy beaches, crystal clear waters, rare flora and fauna, and magnificent scenery, making it a popular tourist destination. We experience the islands rich cultural heritage, meeting some of it's people and we'll be finding out why one of the most westerly islands off the Irish coastline is a haven for people seeking to get away from the hustle and bustle of mainland life.
Website: www.inishbofin.com
Twitter: @RTENationwide
Email: nationwide@rte.ie
Programme Enquiries to: nationwide@rte.ie

RTÉ One, Monday, Wednesday & Friday, 7.00pm
Visit the website