Nationwide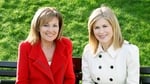 Presented by Mary Kennedy and Anne Cassin, Nationwide brings Irish viewers an eclectic round-up of news, views and events from around the country.
Programmes
MONDAY 31ST AUGUST
LEITRIM PROGRAMME
DESIGN HOUSE/REPORT MARY KENNEDY
Mary Kennedy visits The Dock art space in Carrick on Shannon which is celebrating its 10th birthday. The Dock is host to the Design House which showcases the best in County Leitrim art, craft and design. In addition The Dock hosts regular art exhibitions and music & dance performances. Mary pops in to see the local youth theatre during their summer workshops and talks to Anna McLeod whose Water Conversations exhibition is the highlight of the Dock's summer arts programme.
Contact: The Dock, St Georges Terrace, Carrick on Shannon, Co. Leitrim
Telephone: (071) 965 0828
Website: www.thedock.ie
FOOD HUB/REPORT EILEEN MAGNIER
Like many small towns, Drumshanbo has struggled with the issue of unemployment but the people living there are very determined and they don't give up with the first knock. When the main employer in the town closed down in the 1990's, the people of Drumshanbo decided they would go it alone and this is the story of their quite remarkable achievement.
Contact: Food Hub, Carrick Road, Drumshanbo, Co. Leitrim.
Telephone: +353 71 96 41848
Website: www.thefoodhub.com
Email: info@thefoodhub.com
Contact: Carrig Brewing Company, Drumshanbo, County Leitrim
Telephone: +353 (0)86 8106703
Website: www.carrigbrewing.com
Email: hello@carrigbrewing.com

Contact: McNiffes Bakery, County Leitrim
Telephone: +353 (0) 71 9644625
Website: www.mcniffesbakery.com
Email: info@mcniffesbakery.com
Contact: The Cheese Hub, Drumshanbo, County Leitrim
Telephone: +353 (0)86 1728442
Website: www.thecheesehub.ie
Email: info@thecheesehub.ie

Contact: The Shed Distillery, Drumshanbo, County Leitrim
Telephone: (01) 5079170
Website: www.thesheddistillery.com
Email: rdunne@pjrigneydistillery.com

Contact: Bo Peep Preserves, Drumshanbo, County Leitrim
Telephone: +353 (0) 86 255 9556
Website: www.bopeep.ie
Email: mcpartlandnoel@gmail.com
Contact: Chef in a Box, The Food Hub, Carrick Road, Drumshanbo, County Leitrim.
Telephone: (071) 9641857 & (071) 9641815
Website: www.chefinabox.ie
Email: accounts@paulmulliganfoods.com
WEDNESDAY 2ND SEPTEMBER
Nationwide focuses on history and tradition in Irish business.
TELEPHONE BOX/REPORT JOHN KILRAINE
Public phone boxes are almost a thing of the past but there is renewed interest in the old style wooden kiosks. There are only 15 left in use around the country and are highly sought after as an authentic pieces of street furniture. The demand has created a successful replica making business. Reporter John Kilraine visited the Irish Telephone Box Company in Dublin.
Contact: Burke Joinery Ltd, Unit 1F, Kylemore Park South, Ballyfermot, Dublin 10.
Telephone: +353 (0)1 626 8129 & +353 (0)1 623 3428
Website: www.irishtelephonebox.ie
Email: info@irishtelephonebox.ie

SILVERSMITHS AND CUTLERY CRAFT/REPORT MARY FANNING
Job security is something we all want in this country and 65 years service is a rare statistic in the workforce but this is par for the course at Newbridge Silverware who are still manufacturing in a fully integrated factory in County Kildare and recently craftsmen and women who between them had nearly a thousand years service were brought back to their workplace to celebrate their contribution to a firm that has retained the ancient silversmith and cutlery skills and has stood the test of time. Mary Fanning went along.
Contact: Newbridge Silverware, Newbridge, Co. Kildare
Telephone: +353 (0)45 431301
Website: www.newbridgesilverware.com
Email: service@newbridgesilverware.com
CHURCH FURNISHINGS/REPORT HELEN MCINERNEY
The recent Recession has been difficult for businesses throughout Ireland but while many companies closed, others weathered the storm. In Dromod in Co. Leitrim the Duignan family business not only survived the recession but they managed to expand their customer base and they are now exporting their custom made Church Furniture all over the World securing much needed jobs for this small rural community. Our Reporter Helen McInerney recently paid them a visit.
Contact: Gavin Duignan
Telephone: (071) 9638230
Website: www.icsfurniture.com
Email: info@icsfurniture.com
FRIDAY 4TH SEPTEMBER
EDUCATION PROGRAMME
DROMLEIGH NATIONAL SCHOOL/REPORT NIALL MARTIN
We meet the new Junior Infants at Dromleigh National School in Macroom, County Cork, one of oldest schools in the country, which is celebrating its 175th anniversary.
Contact: Dromleigh National School, Macroom, Co. Cork
Telephone: (026) 46212
Website: www.dromleighns.ie
Email: info@dromleighns.ie
NCAD/REPORT ANNE CASSIN
Anne Cassin visits the National College of Art & Design Graduate Exhibition for their night class students.
Contact: National College of Art & Design, 100 Thomas Street, Dublin 8, Ireland
Telephone: 353 1 636 4200
Website: www.ncad.ie
Email: fios@ncad.ie
OUTDOOR SCHOOL/REPORT HELEN MARK
Imagine a school where you can climb trees and make mud pies, jump in puddles and where you have waterproofs and wellies for a uniform! Well for some lucky Donegal pre-schoolers this dream is a reality. Helen Mark went to visit Irelands first Outdoor School. 'Glen Outdoor Early Learning Centre' is a few miles outside Letterkenny.
Contact: Sally O'Donnell, Owner/Manager, Early Learning Schools
Telephone: (074) 913 7701
Mobile: (086) 858 9339
Website: www.earlylearningschools.ie
Email: sally@earlylearningschools.ie

Twitter: @RTENationwide
Email: nationwide@rte.ie
Programme Enquiries to: nationwide@rte.ie

RTÉ One, Monday, Wednesday & Friday, 7.00pm
Visit the website