Nationwide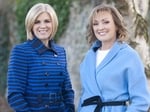 Presented by Mary Kennedy and Anne Cassin, Nationwide brings Irish viewers an eclectic round-up of news, views and events from around the country.
Programmes
MONDAY 22ND MAY
BALLYMALOE LIT FEST PROGRAMME
We travel to East Cork for the Food and Drinks Literacy Festival at Ballymaloe which is going from strength to strength. Ballymaloe LitFest is regarded as one of the best food festivals on a world circuit and the only festival of its kind in Ireland. It's created an important hub for food and drinks enthusiasts worldwide to meet and share ideas with each other.
Contact: The Ballymaloe Litfest, Ballymaloe Cookery School, Shanagarry, Co. Cork
Telephone: +353 21 4645777
Website: www.litfest.ie
Email: books@litfest.ie
HEALING HERBS/REPORT MARIA MULLARKEY
At the Ballymaloe LitFest there are over 50 food and drinks producers from all over the country and they've all got one thing in common, they're passionate about food and drink. We sent our reporter Maria Mullarkey to meet one of them, Claire Davey of America Village Apothecary, in Co. Galway who makes herbal bitters, syrups, tinctures and tonics for creating craft beverages and for use with food.
Website: www.americavillage.com
WEDNESDAY 24TH MAY
DROGHEDA PROGRAMME/REPORT ANNE CASSIN
Tonight's Nationwide comes from Drogheda and Anne Cassin visits entrepreneur Gavin Duffy at home with his wife Orlaith before being taken on a whistle stop tour of his town. She then drops in on local charity Ablevision Ireland to see what the crew are up to.
Website: www.ablevisionireland.com
FRIDAY 26TH MAY
BEVEL FURNITURE/REPORT HELEN MCINERNEY
Working with our hands and creating something is said to be therapeutic and relaxing and if you can make something useful in the process all the better.
Near Fethard on Sea in Co. Wexford one craftsman has discovered that teaching traditional woodworking skills not only benefits the students but also himself and the community. Helen McInerney has the story.
Contact: Tommy Kelly, Bevel Furniture, Poulfur, Fethard-on-Sea, Co. Wexford
Telephone: +353 51 397463
Website: www.bevelfurniture.com
Email: tkelly@bevelfurniture.com
DUNDRUM GARDEN/REPORT VALERIE WATERS
The International garden designer Diarmuid Gavin has brought his Chelsea garden which was on show there last year home to Dublin. It is now at Dundrum Town Centre for all to visit. Valerie Waters met Diarmuid and his team a few days ago to see how the work was progressing to get this garden ready for it's time in the sun.
LORRAINE COTTER/REPORT MARY KENNEDY
Carrickmacross local woman Lorraine Cotter travelled the world with Riverdance and is founder and director of the local chamber choir called Cantemus. She is also a mother of three children with autism and Mary Kennedy meets Lorraine at her home who talks about her daily challenges.
Twitter: @RTENationwide
Email: nationwide@rte.ie
Programme Enquiries to: nationwide@rte.ie

RTÉ One, Monday, Wednesday & Friday, 7.00pm
Visit the website