Nationwide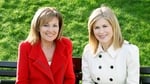 Presented by Mary Kennedy and Anne Cassin, Nationwide brings Irish viewers an eclectic round-up of news, views and events from around the country.
Programmes
MONDAY 24TH OCTOBER
Tonights programme focuses on music and the stage.
PERFORMER, PATRICIA CAHILL/REPORT MARY KENNEDY
This day next week is Halloween, a time of great excitement for children all around the country. When Halloween is over, thoughts turn to Christmas and all the joys that entails, including of course a visit to the pantomime. One of the big names of pantomime was Patricia Cahill who starred alongside Maureen Potter in so many wonderful shows at the Gaiety. Patricia divides her time now between Spain and Ireland and Mary Kennedy was delighted to spend a day with her recently when she was visiting Dublin. We met up on the street where she lived, Mourne Road in Drimnagh.
Website: www.patriciacahill.com
STARLIGHT EXPRESS/REPORT DAMIEN TIERNAN
Thousands of children all over the country are this week working hard at getting their lines right for forthcoming plays or musicals or Christmas pantos. One drama company in the South East is bringing budding stars together for a marvellous production of Starlight Express. Damien Tiernan has been following the trials and tribulations of the cast, from auditions right through to the opening night at the Theatre Royale in Waterford.
Facebook: www.facebook.com/david.stageschool
WEDNESDAY 26TH OCTOBER
This evening we meet people with passion for their chosen pastime or sport.
GOLF/REPORT DAMIEN TIERNAN
We meet a man in Waterford who has re-invented himself to develop a new career in golf club manufacturing. Irish Clubmaker of the Year, Peter Doyle of Precision Fit Golf in Tramore is an engineer by trade and entered the custom fitting industry after a less than satisfactory refit of his own clubs several years ago. Reporter Damien Tiernan recently met the master craftsman and also some golfers who are passionate about improving their game.
Contact: Peter Doyle, Precision Fit Golf, Tramore, Co. Waterford
Telephone: (051) 644721
Website: www.precisefitting.com
Email: Info@precisefitting.com
CLONTARF BOATING/REPORT VALERIE WATERS
We head out on the water to see a brand new racing dinghy in action. It is a great example of a volunteering community effort. This boat was made by a group of people who came together in their spare time and the end result is now to be seen in this report by Valerie Waters.
Contact: Clontarf Yacht & Boat Club, Belvedere, Clontarf Road, Clontarf, Dublin 3
Telephone: (01) 8332691
Website: www.cybc.ie

AIKIDO/REPORT COLM FLYNN
All across the country, any night of the week you'll find various Karate and Taekwondo classes taking place, two pretty well known sports. But there's another form of martial art on the rise which is gaining popularity in various towns across the country. The martial art is called Aikido and our reporter Colm Flynn went to East Cork to investigate
FRIDAY 28TH OCTOBER
FLANAGAN BROTHERS/REPORT HELEN MCINERNEY
The Story of Emigration has been a fact of life for the Irish for Centuries. Thousands have left our shores to seek better opportunities in other countries. Many of our emigrants have carved out very good lives and careers abroad. Recently Waterford Civic Trust unveiled a plaque to one such family, The Flanagans. They left Ireland over 100 years ago but their love of Ireland and it's music has inspired generations of musicians past and present. Helen McInerney has the story.
PAPERWORKS/REPORT ANNE CASSIN
Have you ever wondered how very old documents, the kind you might find in a university or national archive, are preserved from decay so that we can handle them? The method of cleaning and repairing old paper-based items is time-consuming, solitary work requiring lots of patience. We meet a woman who has specialised in this kind of work. Anne Cassin takes up her story as she receives an assignment from Dublin City Archives.
Facebook: www.facebook.com/Paperworks-Studio-for-Paper-Conservation-169110686496633
BOOK OF FENAGH/REPORT EILEEN MAGNIER
We've heard a lot about centenaries this year but 2016 also marks a very significant anniversary which goes back five centuries. In 1516 a master scribe in Fenagh, County Leitrim wrote a fascinating manuscript which survives to this day and this year the people of the local area have been delving into and celebrating this historic work.
Website: www.ria.ie
Website: www.fenagh.ie

Twitter: @RTENationwide
Email: nationwide@rte.ie
Programme Enquiries to: nationwide@rte.ie

RTÉ One, Monday, Wednesday & Friday, 7.00pm
Visit the website