Nationwide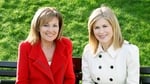 Presented by Mary Kennedy and Anne Cassin, Nationwide brings Irish viewers an eclectic round-up of news, views and events from around the country.
Programmes
MONDAY 22ND AUGUST
NO PROGRAMME
WEDNESDAY, 24TH AUGUST
A focus on big houses, gardening and country life.
IVERK SHOW/REPORT BRIAN WALSH
The Iverk Show, which is the oldest agricultural show in the country, takes place in Piltown in County Kilkenny every year. It was started almost 200 years ago by Lord Bessborough who resided at Bessborough House which is now Kildalton Agricultural College. The Iverk Show has grown to become one of the biggest in the Country. The show will take place in Piltown this coming Saturday and we've been finding out all about it.
Contact: Iverk Show
Telephone: (353) 051-644621
Website: www.iverkshow.ie
Email: secretary@iverkshow.ie
CURRAGHMORE ESTATE/REPORT MARY KENNEDY
The fine stately home at Curraghmore Estate lies just outside the village of Portlaw in County Waterford. It is home to the 9th Marquis of Waterford and in recent times they have opened up the estate to visitors. Mary Kennedy visited Lord Waterford who gave her a tour of the wonderful gardens at Curraghmore.
Contact: Curraghmore House
Telephone: (051) 387101
Website: www.curraghmorehouse.ie
MOUNT CONGREVE ESTATE/REPORT BRIAN WALSH
Mount Congreve was the home of Ambrose Congreve who died some years ago and left the magnificent house and gardens to the Irish people. It is located in Kilmeaden just outside Waterford city and we went along to explore the beautiful and impressive gardens.
Contact: Mount Congreve
Telephone: +353 (0)51 384 115
Website: www.mountcongreve.com
Email: enquiries:info@mountcongreve.com
FRIDAY, 26TH AUGUST
PROGRAMME ON THE GREATER CHERNOBYL CAUSE CHARITY/REPORT MARIA MULLARKEY
This programme looks at the work of the organisation, The Greater Chernobyl Cause, a Cork based charity led by Cork woman, Fiona Corcoran. This charity has been working tirelessly with children and the elderly in Kazakhstan, Ukraine and Russia since it was founded in 1999. Reporter Maria Mullarkey has been finding out all about the charity, its founder and all its work over the last 16 years.
Website: www.greaterchernobylcause.ie
Twitter: @RTENationwide
Email: nationwide@rte.ie
Programme Enquiries to: nationwide@rte.ie

RTÉ One, Monday, Wednesday & Friday, 7.00pm
Visit the website