Nationwide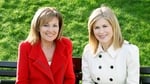 Presented by Mary Kennedy and Anne Cassin, Nationwide brings Irish viewers an eclectic round-up of news, views and events from around the country.
Programmes
MONDAY 5TH OCTOBER
NATIONAL BREAD WEEK
This evenings programme is all about Irish bread, all part of our celebration of National Bread Week.
Website: www.nationalbreadweek.ie
MCCLOSKEYS BAKERY/REPORT ANNE CASSIN
Anne Cassin recently took a trip to Louth to visit McCloskey's bakery to find out about bread making on a commercial scale.
Contact: McCloskeys Bakery, Ballymakenny Business Park, Ballymakenny Rd, Drogheda, Co. Louth
Telephone: (041) 983 8692
Website: www.mccloskeysbakery.ie
Email: info@mccloskeysbakery.ie

BROWN BREAD MAKING/REPORT ANNE CASSIN
Anne Cassin meets champion home baker, Betty Williams in her home in Clonmel who gives her tips on how to make the perfect brown bread.
Brown Bread Recipe:
6oz Plain Flour
10oz Wholemeal Flour
¾ teaspoon Salt
2 teaspoons Bread Soda
1 Egg
2oz Brown Sugar
2oz Wheat Bran
2oz Oat Bran
2oz Pinhead Oatmeal
2oz Porridge Oatlets
2oz Butter (Rubbed in)
2oz Linseeds
Approx 1 litre Buttermilk (add carefully with the beaten egg)
1lbs Loaf Tin
Cook at approx 200 degrees C for 1 hour (you may have to drop to 180 degrees C)
POLISH BREAD/REPORT PAT MCGRATH
Next to County Mayo, where three Polish brothers have used their bread-making expertise to build a successful business. The Breadski Brothers have adapted traditional recipes from their homeland to create products that appeal to the Irish palate. Since they came here 3 years ago, they've expanded steadily and their bread is now being distributed countrywide. Pat McGrath has been to the Breadski Bakery in Castlebar.
Contact: That Bread, Unit 14, Breaffy Business Park, Castlebar, Co. Mayo, Ireland
Telephone: +353 (1) 960 93 93
Website: www.thatbread.ie
Email: get@thatbread.ie

WEDNESDAY 7TH OCTOBER
SPORTS PROGRAMME
EUROPEAN CHAMPIONSHIPS/REPORT MARY KENNEDY
Tomorrow evening Ireland take on Germany in their campaign to qualify for the European Championships, the game which is being played at the Aviva Stadium will be covered on RTE Two TV. Audiences of Irish soccer were shocked earlier this year with the sad news of the passing of one of Ireland's best known and loved sports presenters Bill O'Herlihy. In 2012 Mary Kennedy went to meet Bill at his home to talk about his life and times and his love of The beautiful game. This evening in advance of the Ireland-Germany game, we thought it would be nice to revisit that story on Bill and his life in front of the camera.

DRIMNAGH BOXING CLUB/REPORT JOHN KILRAINE
Drimnagh Boxing Club has bred some of the country's best known champions over the years. Now celebrating fifty years in amateur sport the club has a rich history and is currently rebuilding for the future.
Contact: Drimnagh Boxing Club, Drimnagh, Dublin 12.
Telephone: (01) 4730981
Facebook: https://www.facebook.com/Drimnagh-Boxing-Club-414009531990283/timeline/
Email: drimnaghboxingclub@eircom.net

JUDO/REPORT VALERIE WATERS
The close contact sport of Judo is one of the most popular sports in the world. A highly experienced Judo practitioner has adapted the sport to suit the needs of special needs children and it is proving very successful. Reporter Valerie Waters went to see the sport in action in Portumna, Co. Galway.
Contact: James Mulroy, Chairman & Founder, Judo Assist Ireland
Telephone: (067) 38951
Mobile: (086) 0612544
Website: www.judoassist.ie
Email: info@specialneedsjudo.co
FRIDAY 9TH OCTOBER
PROGRAMME ON RECREATE RECYCLING CENTRE
In this programme Mary Kennedy visits ReCreate, a recycling centre at Ballymount in Dublin. Companies donate unused excess materials that would have gone to landfill and members can then take away as much as they like for use as arts materials. We meet artists who use ReCreate as a source of inspiration and raw materials including one National College of Art & Design Graduate who was invited to a design showcase at Brown Thomas recently on the strength of what she designed from waste materials she picked up at ReCreate. We also meet the artist who bakes his art from leftover paints found at recycling centre.
Contact: ReCreate, Unit 8, Block K, Ballymount Drive, Ballymount Industrial Estate, Dublin 12.
Telephone: (01) 456 8798
Website: www.recreate.ie
Email: info@recreate.ie

Twitter: @RTENationwide
Email: nationwide@rte.ie
Programme Enquiries to: nationwide@rte.ie

RTÉ One, Monday, Wednesday & Friday, 7.00pm
Visit the website