Nationwide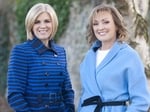 Presented by Mary Kennedy and Anne Cassin, Nationwide brings Irish viewers an eclectic round-up of news, views and events from around the country.
Programmes
MONDAY 18TH SEPTEMBER
HARVEST PROGRAMME
URBAN CO-OP/REPORT MARIAN MALONE
The Urban Co-Op is Limerick's first co-operative community grocery store. Now four years in existence, it sells wholesome food at affordable prices, and aims to enhance the lives of members, customers, and the community, and contribute to a more sustainable and fairer world. Marian Malone has been to visit the Co-Op shop itself, as well as some of the producers who supply it with fresh, natural foods.
Contact: The Urban Co-op, The Enterprise Building, Tait House, Roxboro Road, Limerick
Telephone: (061) 317429
Website: www.theurbanco-op.ie
CLARE FARM COLLECTIVE/REPORT NIALL MARTIN
Mary revisits Moy Hill community farm near Lahinch as they are harvesting fruit & vegetables for their subscribers. We featured the farm earlier this year and this time Mary hears of their plans to expand and showcase a new way of farming as a collective rather than as an individual. Mary drops in on their weekly Friday Bar-b-que where anyone can drop in for the company and chats and subscribers can pick up their weekly box of fresh fruit & vegetables.
Website: www.moyhillfarm.com
WEDNESDAY 20TH SEPTEMBER
NO NATIONWIDE PROGRAMME - PLOUGHING LIVE
FRIDAY 22ND SEPTEMBER
PRE TIDY TOWNS PROGRAMME
Tonights programme is all about Tidy Towns and the people who work hard to make our local area's clean and tidy. We visit a West Cork village which has never won the overall award but keeps trying and we see what it means to win the top prize as we visit last years winners Skerries to see what kind of a year its been.
RATHBARRY BEST KEPT TOWN 2017
We visit the picturesque hamlet of Rathbarry in County Cork, a village which has known success in the SuperValu Tidy towns competition but has never won the overall prize but they have won another title, Ireland's Best Kept town award 2017. We also take a look back on our last visit to this scenic village, which was 18 years ago, to see the tidy towns effort being made then.
Facebook: www.facebook.com/Rathbarry-Tidy-Towns

SKERRIES TIDY TOWNS/REPORT ANNE CASSIN
We visit the seaside town of Skerries in North County Dublin which were the winners of last years Tidy Towns Competition. Anne Cassin went along to see what winning has meant for the town.
Facebook: www.facebook.com/SkerriesTidyTowns
Twitter: @RTENationwide
Email: nationwide@rte.ie
Programme Enquiries to: nationwide@rte.ie

RTÉ One, Monday, Wednesday & Friday, 7.00pm
Visit the website