Nationwide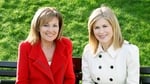 Presented by Mary Kennedy and Anne Cassin, Nationwide brings Irish viewers an eclectic round-up of news, views and events from around the country.
Programmes
MONDAY 23RD MAY


SPORT & FITNESS PROGRAMME

We find out how sport and fitness are key to good mental and physical health.


HIDDEN DISABILITY/REPORT VALERIE WATERS
We meet an extraordinary young Dublin woman who is part of the " I See Beyond" campaign. Athlete Katie Cooke is raising awareness about the hidden challenges many people in Ireland live with. Reporter Valerie Waters met Katie at her local gym where she trains every day.

Website: www.iseebeyond.ie
Email: support@iseebeyond.ie

ROGUE FITNESS/REPORT HELEN MCINERNEY
They say nothing good comes easy and that's certainly the message in this story about a young woman who was homeless in London when she discovered that fitness training could change her life. Very quickly she went from sleeping in a public toilet to working with celebrities and Royalty. Now she spends her time educating people about Nutrition and exercise. Reporter Helen McInerney has her story.

Contact: Rogue Fitness, Kinsale
Telephone: 353 21 4777538
Website: www.roguefitness.ie
Email: info@roguefitness.ie


ARBOUR HILL BOXING/REPORT VALERIE WATERS
Arbour Hill Boxing Club has produced 50 Irish Senior titles over the years since it's foundation in 1929. It's steeped in history, but it's not all about the past. These days it's a very valuable sports facility in the north inner city. Reporter Valerie Waters went there to have a look at what was going on.

Contact: John Doyle
Email: jdoyle@fdacons.ie

WEDNESDAY 25TH MAY


EURO 2016

SOCCER PROGRAMME

It's just eleven days to the start of the Euro 2016 Soccer Championships in France, when for the very first time, Irish teams from both sides of the border will feature. Qualification is a monumental achievement and for the next few weeks, Irish people are going be football crazy. Tonight's Nationwide programme is about the two managers who have helped to get Ireland to this stage, the two O'Neills, Martin and Michael. They are both from Northern Ireland, they both come from a GAA background and during their school days they were high achievers, academically and on the sports field. Reporter Tommie Gorman meets the top men in Irish soccer who talk about their lives, their achievements and their ambitions for the two Irish soccer teams as they lead them to the European championships in the coming days.


FRIDAY 27TH MAY

WALKING PROGRAMME

In this programme we look at how rural communities can benefit from opening up their land for walking and cycling routes. As work on several routes has been halted due to farmer concerns, we visit the Sheep's Head in West Cork to see how local farmers opened up their lands 20 years ago and we pop back to Cullahill in County Laois with RTE presenter John Murray who hosted a walk in the area for his popular radio show three years ago.

Website: www.thesheepsheadway.ie
Website: www.irishtrails.ie (For information about the National Trails office)
Website: www.environ.ie/community/rural-development/walks-scheme/walks-scheme (For more information about the Walks Scheme)
Website: www.podsireland.ie (For more information about pods see)
Website: www.topoftherock.ie (For more information about Top of the Rock pod park and walking centre)
Website: www.southlaoistourism.com
Twitter: @RTENationwide
Email: nationwide@rte.ie
Programme Enquiries to: nationwide@rte.ie

RTÉ One, Monday, Wednesday & Friday, 7.00pm
Visit the website