Nationwide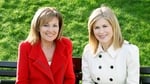 Presented by Mary Kennedy and Anne Cassin, Nationwide brings Irish viewers an eclectic round-up of news, views and events from around the country.
Programmes
MONDAY 23RD FEBRUARY
NORTH KERRY PROGRAMME
This evenings programme is all about the attractions of a beautiful part of North Kerry, we visit the seaside resort of Ballyheigue to meet the locals and to find out about the history of the area and to join a walking tour of the surrounding area on a path which is part of North Kerry Way.
Website: www.northkerryway.ie
Website: www.ballyheigue.ie
Email: info@ballyheigue.ie
Contact: Lisheen Toys Ltd, Ballyheigue, County Kerry, Ireland.
Telephone: (066) 7133436
Website: www.lisheenmontessori.com
Email: lisheenmontessori@gmail.com
DON O'NEILL/REPORT MARY KENNEDY
A famous son of Ballyheigue is fashion designer Don O'Neill who has been making quite a name for himself with his elegant and feminine designs which have found favour with women all around the world including Sarah Ferguson, Oprah Winfrey, Khloe Kardashian. Don's company is called Theia Couture, he's based in New York and is wowing the fashion world. As well as that he's totally committed to his home place in Ballyheigue and is one of the nicest, gentlest and most creative people you'd meet.
Website: www.theiacouture.com
Email: theia@jsgroup.com
WEDNESDAY 25TH FEBRUARY
DIVINE MERCY PROGRAMME
This evening the story of a Polish Nun and the thousands of Irish followers who are devoted to the message she is reputed to have received from God. We join the faithful at their Divine Mercy conference in the RDS to talk religion and about the importance of prayer in their lives.
Contact: Divine Mercy Apostolate
Telephone: (086) 0669203 (daytime only please)
Website: www.divinemercyconference.com
Email: divinemercyconference@gmail.com
Twitter: @DivineMercyIRL

DIVINE MERCY/REPORT MARY FANNING
Every week in every parish in Ireland Divine Mercy prayer groups are praying for the sick and for intentions in their community. Mary Fanning went along to the Moore Abbey group in Monasterevin, Co. Kildare.
FRIDAY 27TH FEBRUARY
YOUGHAL HERITAGE PROGRAMME
This evening's programme is from the walled seaport town of Youghal in County Cork. We meet the town crier Cliff Winser and learn about Youghal's heritage. We visit the 900 year old St. Mary's Collegiate Church in the town where a burial vault was recently discovered. Also featured in the programme is Youghal's iconic Clock Gate Tower and we hear about the restoration work of the medieval walls.
Website: www.youghal.ie
Website: www.youghal.cloyne.anglican.org
Website: www.crazyglazing.com
Facebook: www.facebook.com/YoughalHeritage

Twitter: @RTENationwide
Email: nationwide@rte.ie
Programme Enquiries to: nationwide@rte.ie

RTÉ One, Monday, Wednesday & Friday, 7.00pm
Visit the website