Nationwide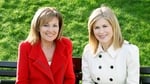 Presented by Mary Kennedy and Anne Cassin, Nationwide brings Irish viewers an eclectic round-up of news, views and events from around the country.
Programmes
Monday 16th January
PROGRAMME ON THE IRISH WORKING IN LONDON
A special programme from London which is still the favourite city destination for Irish emigrants. We feature some of the younger generation of London Irish who are making waves.
BUZZFEED/REPORT COLM FLYNN
When you are on Facebook or Twitter sometimes you'll scroll pass a great video clip or funny picture that's goes viral. There's a company in London called BuzzFeed which specialises in creating that viral content online, and our reporter Colm Flynn went along to meet Declan Cashin, a young man from Kilkenny who's chasing your clicks!
Website: www.buzzfeed.com
LAOISE CASEY/REPORT ANNE CASSIN
We meet Dubliner Laoise Casey in London who is working as a Chef, Writer and Food Stylist.
CEREAL KILLER CAFE/REPORT COLM FLYNN
There are no shortages of places to eat in London city but now two Irish brothers from Belfast have opened their own cafes in London. But these Cafe's are a bit different as they sell nothing but Cereal. Reporter Colm Flynn met Alan and Gary Keery at their Cafe in London that sells over 100 different types of Cereal.
Website: www.cerealkillercafe.co.uk
PHOTOGRAPHER/REPORT COLM FLYNN
The city of London is not just a great centre for commerce and business, but it's also a great for anyone in the creative field and Colm Flynn has been spending some time with Conor Clinch, a young photographer from Dublin who has been making a name for himself there.
Website: www.conorclinch.com
Email: info@conorclinch.com
WEDNESDAY 18TH JANUARY
SPECIAL PROGRAMME ON THE IRISH IN THE WHITE HOUSE / CAITRÍONA PERRY
This special edition of Nationwide is from the White House in Washington DC where shortly Barack Obama, his family and staff will move out to be replaced with Donald Trump and his new team. While the new President doesn't claim to have any Irish heritage plenty of those who've resided there have. But it's not just the President, many of the staff do too and over the last year we've been meeting up with some of the Irish-Americans working in the White House. Among them are Dublin born Samantha Power, who is the most Irish person in the current administration, and holds the key role of Ambassador to the UN. We chat to Chief Speechwriter Cody Keenan, who is seventh generation Irish with family connections in Cork and Dublin. We also meet Dubliner Anne Anderson who has been the Irish Ambassador in the US for the last three and a half years and she tells us why the Irish have been so influential in US politics. Plus we meet Jennifer Psaki, White House Communications Director who has Irish connections on both sides of her family and we hear how Irish architect James Hoban designed the White House.

FRIDAY 20TH JANUARY
SIGN PAINTER/REPORT PHILIP BROMWELL
Take a walk around Dublin nowadays and you might notice that there's been something of a revival in the craft of sign painting. Businesses are increasingly turning to artists to convey that their shop, cafe or restaurant has its own distinctive character, whether it's the sign above the door or a mural across one of the walls. One of the capital's new generation of sign painters is Vanessa Power, who has been chatting to our reporter Philip Bromwell.
Contact: Vanessa Power
Telephone: (087) 297 2953
Website: www.signsofpower.com
Email: vanpower@gmail.com

SLIGO GAOL/REPORT EILEEN MAGNIER
Back in the mid 1950's a wrecking ball was taken to a remarkable building in Sligo, knocking down over half of it. Sligo Gaol was once an important focal point in the town and it's now the last remaining polygonal shaped prison in the country. It has a colourful history and a local group called Friends of Sligo Gaol is determined to tell the gaol's story and ultimately open it up to the public.
Website: www.sligogaol.ie
Email: info@sligogaol.ie
LAFRANCHINI STUCCO/REPORT NIALL MARTIN
Some of our greatest works of art are very difficult to see like some of Harry Clarke's Stained Glass windows, high up in church walls or the ceiling plasterwork of the LaFranchini Brothers in the 18th century. But when such a prized piece of art falls to the floor in pieces it's all too visible. Niall Martin has this report.
Website: https://theirishaesthete.com/2015/05/18/exuberance/ [For more information on the work of the LaFranchini Brothers]
Twitter: @RTENationwide
Email: nationwide@rte.ie
Programme Enquiries to: nationwide@rte.ie

RTÉ One, Monday, Wednesday & Friday, 7.00pm
Visit the website