Nationwide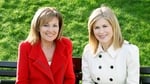 Presented by Mary Kennedy and Anne Cassin, Nationwide brings Irish viewers an eclectic round-up of news, views and events from around the country.
Programmes
MONDAY 19TH SEPTEMBER
HARVEST PROGRAMME
In advance of the Ploughing Championships we look at harvesting around the country. We visit the Phoenix Park Honey Show where beekeepers get to meet and discuss the business of bee keeping and meet traders and customers from around the country. We also take a trip to a Lavender farm in Co. Wexford and we visit a West Co. Cork school where they have built a geodesic dome to help get their fruit & vegetables harvested before the school holidays.
Website: www.phoenixpark.ie
Website: www.irishbeekeeping.ie [For more information about beekeeping]
Website: www.dublinbees.org [For Information about the Dublin Beekeepers]

GEO DOME/REPORT NIALL MARTIN
We visit a school in West Cork where the students have been learning about planting and growing their own fruit and vegetables. We also see the special Dome which has been built in the school yard in which the growing of these fruit an veggies takes place.
Website: www.bespokestructuresireland.com
Facebook: Geodome at Home
THE LAVENDER FARM/REPORT HELEN MCINERNEY
There's something Nostalgic and soothing about Lavender, it conjures up images of times past and while it's grown in gardens up and down the country you don't often see it grown commercially in Ireland. But now a woman in Co. Wexford has decided to grow Lavender on her farm, she harvests it by hand and puts it to a myriad of uses. Reporter Helen McInerney has the story.
Website: www.wexfordlavenderfarm.com
Email: info@wexfordlavenderfarm.com
WEDNESDAY 21ST SEPTEMBER
PLOUGHING CHAMPIONSHIPS - NO PROGRAMME
FRIDAY 23RD SEPTEMBER
VINTAGE COLLECTORS
This evening we are taking to the highways and bye ways of the country to meet Truckers, vintage tractor owners and the collectors of vintage cars.
DONEGAL TRACTOR/REPORT MARY FANNING
Last weekend thousands of tractor enthusiasts gathered in Donegal in the village of Carrigan where Massey Ferguson was the name of the game and collectors from all over Ireland and the U.K. came together in an attempt to break 3 world records. Our reporter, Mary Fanning went along to meet the Tractor men.
Contact: Derek Long, Chairman, Whitecross Vintage Association
Telephone: (087) 6801588
Website: www.fergusonworldrecord.town.ie
Email: whitecrossvintageassociaton@hotmail.com

VINTAGE RUN/REPORT ANNE CASSIN
Vintage or classic cars bring back the nostalgia of the cars we grew up with. Who can forget the Ford Escort, the Morris Minor or the Vauxhall Victor if you're a bit older! The Garden of Ireland Vintage Car Club members are out on the roads and Anne Cassin was invited to join them.
Website: www.gardenofirelandvintagecarclub.ie
Website: www.irishvintagescene.ie
TRUCKERS & COUNTRY MUSIC/REPORT LIAM CREAGH
Many of the truckers on the roads today are known to be big country music fans and recently we went to a special Truck convoy event in Fermanagh to meet the truckers and to find out about their love of Country Music.
Twitter: @RTENationwide
Email: nationwide@rte.ie
Programme Enquiries to: nationwide@rte.ie

RTÉ One, Monday, Wednesday & Friday, 7.00pm
Visit the website