Nationwide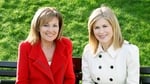 Presented by Mary Kennedy and Anne Cassin, Nationwide brings Irish viewers an eclectic round-up of news, views and events from around the country.
Programmes
MONDAY 18TH JULY
We meet some talented musicians around the country.
CORK SINGER/REPORT COLM FLYNN
Most singer/songwriters dream of getting that big break, an opportunity that will take their music to the next level. In the past this would have usually been a record deal, but today the music industry is a lot different and our reporter Colm Flynn has gone to meet one Cork singer who's recent big break will mean hundred of millions of people all over the world will be hearing her sing.
Website: www.iamnella.com
PIANO GAA PLAYER/REPORT EILEEN MAGNIER
Sligo has a vibrant music and arts scene and one of the most popular musicians over the past couple of years is a former Gaelic footballer turned piano player whose gigs sell-out within minutes of tickets going on sale. Kieran Quinn was a very successful footballer but had to make a very tough decision and give it up. Now his success comes from performing on stage and in particular from encouraging others, especially young people, to enjoy music.
Website: www.kieranquinn.ie
LEITRIM SINGER/REPORT EILEEN MAGNIER
Carrick on Shannon in County Leitrim is home to a young woman who recently won a prestigious UK song writing contest. Ailie Blunnie began composing her own songs in college and last year she has won the, "love song category", of the UK International Songwriting competition.
Website: www.ailieblunnie.com
WEDNESDAY 20TH JULY
MALLOW PROGRAMME
This evening we're coming to you from Mallow in North County Cork. Mallow is the largest town along the Blackwater Valley and is surrounded by a number of rural communities each with their own special character. In archaeological terms, this is one of the most interesting spots in Ireland, with many centuries old castles, round towers and other historic structures. It's also an area of unspoiled beauty and welcoming hospitality. This evening we bring you a taste of why Mallow is such a great place to visit. A town that has so much to offer, it's rich in history and an excellent base to explore the beautiful Blackwater Valley and we'll also be giving you a flavour of some of its rural communities.
Website: www.visitmallow.ie
Website: www.visitcorkcounty.com

FRIDAY 22ND JULY
All over Ireland there are some fine houses and castles and this evening we visit three of these to see what their owners are doing to keep them open and full of life.
LOFTUS HALL/REPORT HELEN MCINERNEY
Our first story takes us to the very end of the South East Corner of the country to the Hook Head Peninsula in County Wexford. Loftus Hall is an imposing mansion which has for many years been said to be haunted and rather than try to deny the stories, the present owners have in fact embraced the Ghost story and now have tours of the house for people with an interest in Scary stories.
Contact: Loftus Hall, Hook Head, New Ross, Co. Wexford.
Telephone: (051) 397728
Website: www.loftushall.ie
Email: info@loftushall.ie
CLONONY TOWER HOUSE/REPORT CIARAN MULLOOLY
Our next story has no Ghost's that we know of but The 15th Century Clonony Tower House near Shannon Harbour in County Offaly was for many years in a state of disrepair, that is until an American woman who once a ballerina, moved in and transformed it into a home.

WATERFORD CASTLE/REPORT DAMIEN TIERNAN
Castles and great houses can cost a fortune to maintain and many have been converted into fine Hotel's. An example of this is on a small Island on the River Suir. Waterford Castle is owned by Kilkenny man Seamus Walsh who in the 1980's emigrated to Australia to work as a Carpenter. We've been to visit Seamus at his birth place in County Kilkenny to hear his story.
Contact: Waterford Castle Hotel & Golf Resort, The Island, Waterford,
Telephone: 353 (0) 51 878 203
Website: www.waterfordcastleresort.com
Email: info@waterfordcastleresort.com
Twitter: @RTENationwide
Email: nationwide@rte.ie
Programme Enquiries to: nationwide@rte.ie

RTÉ One, Monday, Wednesday & Friday, 7.00pm
Visit the website