Nationwide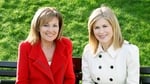 Presented by Mary Kennedy and Anne Cassin, Nationwide brings Irish viewers an eclectic round-up of news, views and events from around the country.
Programmes
MONDAY 5TH DECEMBER
NEWBRIDGE HOUSE DUBLIN
We visit Newbridge House and Farm near Donabate in North County Dublin to see what it has on offer for visitors. Newbridge Demense is an experience for all ages and in all seasons. It consists of almost 370 acres including the stately grandeur of the Georgian mansion, woodland walks and the traditional working farm and adventure playground. We go on a guided tour of the house and meet the former owner who tells us about growing up there. We also take a tour of the farm and hear about ongoing restoration works. Plus we hear about the Lord Chancellor's coach.
Contact: Newbridge House, Hearse Road, Donabate, Co. Dublin
Telephone: (01) 843 6534
Website: www.newbridgehouseandfarm.com
Email: info@newbridgehouseandfarm.com
CARRIAGE/REPORT JOHN KILRAINE
One of the most popular attractions in Newbridge House has been the Lord Chancellor's coach. Built in the 18th century it was then the height of luxury transport. It also became a symbol of political rivalry at the time but recently it had to be moved into storage while a new home is built on the estate.


WEDNESDAY 7TH DECEMBER
We focus on supporting local Irish people who are making a living through working with their hands.

THE CASTLE ANTIQUES/REPORT MARIAN MALONE
The village of Clarecastle, just outside Ennis, went into something of a decline when it was bypassed in 2007. But a new, vibrant and multi-faceted business based in an historic building has breathed fresh life into the heart of the village. This new venture provides a shop window for small crafts people from the Banner County and beyond. Our reporter, Marian Malone was in Clarecastle when the store celebrated its first birthday.
Contact: The Castle Antiques, Barrack St. Clarecastle, Co. Clare
Telephone: (065) 68 48631
Website: www.thecastlegalleries.com
Email: info@thecastlegalleries.com

SLIGO CHRISTMAS/REPORT EILEEN MAGNIER
In the run up to Christmas, there are many different markets taking place where local produce is on sale, these markets are important for food producers and crafts people and draw customers into the locality. In County Sligo the Strandhill people's market is unique in that it takes place in an Airport Hanger. Our reporter Eileen Magnier has been meeting some of the stall holders who are looking forward to brisk Christmas trading.

Contact: Strandhill People's Market, Hangar 1, Sligo Airport, Strandhill, Co. Sligo
Website: www.strandhillpeoplesmarket.ie

FRIDAY 9TH DECEMBER
WOMEN ON WALLS/REPORT WILL GOODBODY
Unfortunately women continue to be under-represented in the fields of science, technology, engineering and maths. Recently the Royal Irish Academy, which is Ireland's leading body of experts in the sciences and humanities, decided it could and should do something to help address that problem and so along with management consulting firm Accenture, it set up the Women on Walls campaign to try to combat the issue in a visual way. Will Goodbody has been finding out what it's all about.
Website: www.accenture.com/ie-en/women-on-walls

LOST AT SEA/REPORT DAMIEN TIERNAN
Christmas can be an emotional time for many across the country, particularly for those who have lost loved ones in recent years. One group which has seen its fair share of tragedy is the fishing and coastal community. But a new group has been set up offering comfort and support, as Damien Tiernan now reports.
Contact: Noel McDonagh (086) 2686082
Facebook: www.facebook.com/Lost-At-Sea-Tragedies-LAST-365893850430626

PRESIDENT IN CHINA/REPORT PAUL O'FLYNN
For most people the mention of Vietnam brings to mind the bitter and bloody 20 year war where the communist north fought the American-backed south from 1954 to 1975. But after years of isolation and poverty, Vietnam is on the rise. President Michael D. Higgins recently travelled to the South East Asian country for a State Visit to meet the growing Irish community there and develop links in business, travel and education. Paul O'Flynn reports.
Twitter: @RTENationwide
Email: nationwide@rte.ie
Programme Enquiries to: nationwide@rte.ie

RTÉ One, Monday, Wednesday & Friday, 7.00pm
Visit the website