Music Inc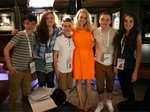 Over eight episodes MUSIC INC will track ten music mad, ambitious and hard-working Irish teenagers on the challenge of a lifetime. Week on week they will be set a challenge behind the scenes of the music industry with access to some of pop music's biggest names. Pixie Lott, Ella Henderson, Union J, Imelda May, Ashley Banjo & Kimberly Wyatt - they all have tasks up their sleeves for our young challengers - from sorting rider to designing a stage outfit, from choreographing a dance troup to making a music video. Each episode will see one contestant knocked out and the remaining teens take one step closer to the final battle - the grand finale challenge between the last two standing in Hong Kong!
The challenges are mentored by pop industry expert Liam McKenna and judged by the industry stars. This is a once in a lifetime backstage pass to meet and work with some of the biggest names in the music business.
Liam McKenna is a former member of the girl/boyband 'SIX' and 'There's A Whole Lotta Lovin' is still one of the biggest selling singles ever in Ireland. He now is one of the UK and Ireland's busiest tour managers, having worked with an impressive catalogue of acts, including JLS, Girls Aloud and Westlife and is currently working with Louis Walsh and his new boyband 'Hometown'.
A Tyrone Production for RTÉ Young Peoples
Episode 1 - Dance & Staging Challenge
Ashley Banjo of 'Diversity' fame and former Pussycat Dolls member Kimberly Wyatt set the ten MUSIC INC contestants their first challenge to stage a dance performance worthy of supporting a major music act at a pop concert. The contestants split into two teams and they must plan all of the elements - choreography, costume, staging, lighting and props. The two teams stage their performance to a full audience and Liam who will judge. The winning team all secure their place in episode two. One of the losing team will be eliminated.
Episode 2 - Rider Challenge
Ahead of her sold out gig in Dublin's Olympia Theatre, rockabilly singer Imelda May sets the remaining nine contestants the challenge of sourcing everything on her rider. The contestants are split into three teams and with only 24 hours, the same rider list each, a tight budget and no internet access, the teams soon realise it's not as easy as it looks. One of the losing team will be eliminated at the end of the challenge.
Episode 3 - Studio Recording
The remaining eight contestants meet X Factor hopeful turned global superstar Ella Henderson who sets them the challenge of producing and recording a brand new version of her song 'Ghost'. The contestants are split into two teams for the challenge as they cast their musicians and vocalists to come up with a unique version. They must also design artwork to accompany their track. The contestants travel to Sony HQ in London where they will come face to face with Ella as she listens to both recordings and decides which team triumphs and moves safely through to the next round of Music Inc.
Episode 4 - Designing Merchandise
A double challenge this week sees the seven remaining contestants challenged first by Irish hip hop band, O.R.B (Original Rudeboys) who task them to each design a hoodie to sell at ORB gigs. The winner in the 'hoodie challenge' sails straight through to the next episode while the remaining six contestants are set a second challenge - only four of the six will go through to the next episode.
Louis Walsh boyband Hometown tasks the six to create a 'Hometown Calendar' that will appeal to their fans. Each contestant must come up with a concept for two months of the year and pull off at a time pressured photoshoot. Two go home.
Episode 5 - Breaking the Band
Tensions are mounting as only five contestants remain in Music Inc. This week's challenge sees the contestants assigned two unknown bands who they have launch into the Irish music scene. Starting from scratch the two teams will create an image to suit their band, work social media and other promotional tools to get their band to as many new fans as possible. The teams will pitch their bands to media and music outlets including The Daily Mail, Independent.ie, The Nicky Byrne Show with Jenny Greene on 2FM and Sony. The winning team is the team deemed to have best represented their band to have won exposure on most media outlets.