Music Changes Lives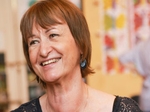 Music Changes Lives is a groundbreaking and inspirational four-part observational documentary series about the transformative power of music. Through extraordinary access to their personal stories, the series will show how the simple act of learning to play an instrument can give children a better chance in life, a fresh start and a brighter future.
St Agnes in Crumlin and St Ultan's in Cherry Orchard have worked tirelessly and selflessly to implement a music tuition programme in their schools. Three years ago Joanna Crookes, the former administrator of the National Youth Orchestra, offered her services on a voluntary basis to the DEIS-designated St. Agnes School in Crumlin and the results have been nothing short of miraculous. In just three years, using every ounce of her energy and ingenuity she has managed through grants, donations and bursaries to buy instruments and turn her revolutionary vision into a reality. Every child in the school now has the opportunity to play an instrument and many do. In a much wider social context, what this project has also achieved is a vast improvement in discipline and behaviour issues in the schools and has also fostered a much more positive outlook for future prospects and expectations among the students.
'What I'm really interested in is equal access to learning a musical instrument because in Ireland it's not available unless parents can afford it. And that isn't really right,' says Joanna Crookes.
'To me, there's a huge advantage and the whole discipline of the school has changed....The children have much more self confidence and they're smiling because of that self confidence,' says principal of St Agnes, Sr Bernadette Sweeney.
The series takes its inspiration from the hugely successful El Sistema project that began over thirty years ago in Venezuela bringing music to the streets and slums of Caracas. The resulting Simon Bolivar Orchestras tour the globe and some of their most gifted members now work as soloists and conductors with, among others, the Berlin and New York Philharmonics and the Los Angeles Symphony.
Edicson Ruiz was 17 when he became a double bassist with the Berlin Philharmonic three years ago. We took two of the young musicians from St. Agnes school in Crumlin to have a master-class with Edicson.
We witness the sacrifices these children make to be part of the school's music programme and ultimately to become a member of the school orchestra. From rising early on dark winter mornings to take lessons before school formally starts for the day, to putting in endless hours of practice to make a difference to their sound and ultimately to their lives. The prize is a life time of music and a chance to play on the stage of the N.C.H. in Dublin.
Episodes
Programme 1
In the first programme we meet Sr Bernadette, Principal of St Agnes' School in Crumlin and music teacher Joanna Crooks, who have implemented an innovative music programme based on the Venezuelan model El Sistema which gives each child in the school a half hour of music tuition per week.
Programme 2
In the second programme St Ultan's take a trip to Kylemore College to make their recording debut. St Agnes Orchestra perform at the most important date in the school's calendar - the Christmas Concert in the school hall with Seamus Doyle conducting.
Programme 3
The St Ultan's orchestra prepare for their first showcase performance in the National Concert Hall but music teacher Sarah is having difficulty keeping the children under control.
Programme 4
In the final programme in the series, St Ultan's School prepares for their first ever Holy Communion and Muinteoir Ann tries to convince the children to donate some of the money they will receive to The Irish Guide Dogs Association.