Mrs Brown's Boys Christmas Special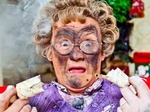 RTÉ One, Christmas Day at 10.00pm

It's the usual chaos for Agnes as Christmas descends on the Brown household. The arrival of a large box for Cathy has Agnes intrigued. and she's even more intrigued when she realises that she's the only family member who doesn't know what's inside it!
Agnes reacts badly when Rory announces that husband Dino is buying him plastic surgery for Christmas. And things go from bad to worse when Agnes gets the wrong end of the stick about exactly what sort of nips and tucks Rory will be having.
Winnie receives some bad news when Jacko's brother Willie passes away, prompting her to make a life-changing decision. Could Winnie's announcement spell the end of her and Agnes's lifelong friendship?
Meanwhile, Buster Brady has delivered Agnes a magical new Christmas Tree which is sure to restore Agnes's festive spirit. If only it would co-operate.
RTÉ One, New Years Eve at 10.00pm "Mammy's Gamble "
After a spate of burglaries in the local area, Agnes is determined to make sure she doesn't fall victim to the recent crime wave. Not only has she fitted a reinforced steel bolt to her back door, but she's asked Buster Brady to install a state-of-the-art alarm system. If only Buster didn't get all his gear off the back of a van.
When Dermot's hopes are dashed after the bank refuses him a loan to set up his own promotions business, Agnes is determined to rescue her son's dreams. However, the only way she can think of to get her hands on the ten thousand euros he needs is to win the local Poker tournament. But will she ever be able to beat her arch nemesis and reigning Poker champion Hilliary Nicholson?
Cathy is feeling broody and decides to pursue unconventional means to get pregnant. Agnes is left reeling at Cathy's announcement but a lovelorn Buster spots an opportunity.
Meanwhile, Agnes's new chair is just that little bit too comfortable.
RTÉ One, Christmas Day & New Years Eve at 10.00pm