SGT Mattie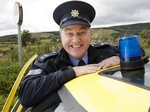 It's Christmas and a chance for our hard working detectives to let their hair down. An end of year service training day provides an opportunity for a specially run programme with an FBI specialist.
This, however, proves a little too touchy feely for the tough folk of Barrack St. Station until the plans of some local hoodlums provide a little excitement. Who is that masked man who saves the day? Could it be Santa?
Episodes - Christmas Special
Episode 1 - The Crime Time Chronicles (St Stephens' Day, 6.25pm, RTÉ One)
To the surprise of resident Sgt. Sullivan, Mattie arrives at Kilcommon Garda Station as the new Sergeant. Sullivan is preparing for the arrival of a TV crew who plan to film a hard-hitting documentary. After Mattie initially disappoints the TV crew with banal tourist trivia he takes them on a helter sketer, high speed tour of the locality which leaves them shaken but unimpressed. When Mattie tells the locals that the crew are leaving there is dismay that the town will lose out on the publicity.
At Mrs. Early's prompting Mattie plans a fake post office raid, staged by Mrs. Early's nephews to impress the TV crew. Events take a turn for the peculiar when real armed robbers show up instead of the fake ones. Unaware of this change, Mattie proceeds to put on a 'bit of a show' for the filming TV crew who go 'live' with the raid. After shots have been fired, Mattie triumphs and captures the criminals. Back in the Carr's pub Sgt. Mattie receives a hero's welcome, only to discover from Mrs. Early that the robbers were in fact real. Their plan to keep it quiet soon becomes unstuck.
Episode 2 - The Funeral (27 December, 8.30pm, RTÉ One)
After a spate of break-ins Mattie learns that the robbers are using Facebook to plan their raids by finding out what houses might be empty and when. To trap them, Mattie convinces Sullivan that he should invent a grand aunt and create a Facebook event to celebrate her birthday, believing that the robbers will target Sullivan's house on the night of the fake party.
To the duo's surprise, there's an enthusiastic response to the party of the fictitious aunt and Mattie is forced to pretend to be 'Aunt Nancy' at the celebrations. At the Credit Union, where the party is taking place, Mattie and Sullivan are delayed by well wishers and Sullivan's house is broken into. With Plan A scuppered, Mattie resorts to Plan B which involves killing off 'Nancy' and announcing her 'wake' on Twitter. The tweet reveals that the Credit Union will be closed as a mark of respect and that money will have to be left there over night. Sure enough, the tech savvy robbers strike again and, with the help of Sullivan and Phyllis, Mattie nabs them . eventually.
RTÉ One, St Stephens' Day 2011, 6.25pm
RTÉ One, Tuesday 27 December 2011, 8.30pm