MasterChef Ireland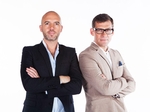 The new series of MasterChef Ireland returns to RTÉ One on the 4th March 2014 at 8.30pm. Broadcasting twice a week for 10 weeks, the viewer can expect some changes in the kitchen. Nick Munier and Dylan McGrath are back but the format is slightly different from previous years. They have upped the pressure and the contestants will be pushed to their very limits.
Over the course of the first four weeks of the new series, Ireland's best 24 amateur cooks will enter the MasterChef Ireland kitchen. The four heats will see six new cooks enter the kitchen on Tuesday where they will have one hour to impress Nick and Dylan with their signature dish. Having tasted the six dishes the judges will eliminate two amateur cooks. The remaining four contestants will return the following night where they will experience the pressure of a busy lunch service in a professional kitchen for the very first time. Following the lunch service, they will return to the MasterChef Ireland kitchen to cook one more time for Nick and Dylan and to fight for their place in the final ten. Their task will be the Key Ingredient Task. Nick and Dylan will give them an hour and a half to create one dish that showcases the key ingredient.
The competition heats up in week five as the final ten amateur cooks come together for the first time. Over the course of the next five weeks they face a series of intense culinary challenges - from invention tests, to exceptional master classes and some extremely tough restaurant services.
RTÉ One, Tuesday & Wednesday, 8.30pm