LUAS: A Tale of Two Trams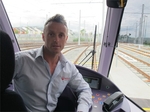 Since its launch in 2004, the LUAS has become a moving landmark of Dublin. A Tale Of Two Trams goes behind the scenes of Dublin's light rail LUAS system, to tell the stories of some of the 80,000 passengers and the staff who support them: from the good, the bad to the anti-social behaviour and fare evaders.
The trams run on two separate lines: the Green and the Red. The tracks run through vastly different areas of Dublin: from the leafy affluent suburbs of south Dublin on the Green to the more traditional working class communities of west Dublin on the Red.
Work has now just begun to finally connect the LUAS system across the city converging at O'Connell Street-with a due date expected in 2017.
Anti-social behaviour has always been a problem on the LUAS and it's on the rise. Last year more than 1000 incidents were reported with 75% taking place on the Red Line.
The documentary goes on the beat with Operation Tramwatch: a major initiative to clamp down on fare evaders. It joins the patrol of private STT Security Agents. It gives an inside glimpse into the systems HUB at the Red Cow where the entire CCTV system is monitored.
With a quarter of the LUAS staff coming from beyond Ireland, A Tale Of Two Trams also reveals some of the issues frontline workers face daily, from racist to sexist comments and threats of violence.
The programme also brings viewers behind the scenes to show what it takes to keep the tram system on track - from the logistics of bringing crowds to a One Direction concert in the O2 to the engineers and cleaning staff who work through the night.
A Tale Of Two Trams is a slice of two sides of contemporary life in Dublin with unique access to the people behind the public transport system.
Like any city centre there's a darker side and you do see more of it in a job like this one." (Stephen Lane, LUAS Traffic Supervisor)