Looking After NO.1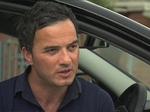 All politics may be local. But Irish politicians are regularly criticised for spending too much time as social workers, counsellors and even parish pumpers. Some argue they would be better working as national legislators; that the national gets lost in the local. Yet Irish TDs in 2013 still forge a unique and intimate relationship with local constituents and their issues. Whether its hospital waiting lists, anti-social behaviour or housing repairs, it seems a TD's door is always open. Now under the microscope for a new documentary, Looking After No.1, five members of the Oireachtas travel from Dublin to Kerry, Mayo to Limerick as the country's temperature is taken mid-term through the current DÁIL.
Limerick TD and former minister, Willie O'Dea (FF), is a seasoned politician of some thirty years. Raised in a rural parish in Kiteely, County Limerick, the former accountant worked in Price Waterhouse Coopers and lectured in the University of Limerick before becoming a TD. O'Dea has tasted power many times but now resides on opposition benches. His constituency office is in his old family home: it's where he holds most of his clinics. He says: "The public are our bosses. You either give them attention or you will not continue as a TD."
One of Willie's constituent's, John King, has lung cancer and is fighting a decision by Social Protection to reclaim an accidental welfare overpayment from him.
New Mayo TD, Michelle Mulherin (FG) is a former solicitor, from Ballina town in Co. Mayo. Strong in her pro-life views, Mulherin came into the public eye following her infamous Dáil "fornication" speech. She deals with a gamut of constituency issues from visa requests to heavy schoolbags while juggling a major decision of whether to hold to the FG whip as abortion legislation is debated. She says: "It's very difficult to get the balance between national issues and local issues but in any job do we get the balance right every day?"
Manar Cherbathi from Syria has lived in Ballina for over twenty years. With violence building in the Middle East, she desperately wants to bring family members to safety in Ireland.
Dublin TDs John Lyons (LAB) and Aengus Ó Snodaigh (SF) cover two large urban constituencies with mixed social demographics. Constituents' issues are as varied as social housing, public littering and health.
John Lyons is a first-time Deputy and one of the few openly gay TDs in the Dáil representing Dublin North-West. A former teacher from Ballymun, he deals with many requests from people in disadvantaged areas of the city. He says: "What's wrong with parish pump politics? What's wrong with someone coming to you and asking for your support?"
Mary Beehan lives alone in Ballymun. Her son is severely disabled and living in full-time care. Mary wants John's help in appealing an adaptation grant for her house so her son can come home for visits.
Aengus Ó Snodaigh (SF) was born in Sandymount Dublin and he's the Sinn Féin spokesperson on Social Protection while juggling constituency work: "You get to know how far you can push yourself to deliver the right entitlements to people."
John Piercy from Ballyfermot looks after his 70-year-old mother Margaret yet he's been rejected for Carer's Allowance. He looks to Aengus for help with his appeal.
Independent Kerry TD Michael Healy-Rae, comes from a former Fianna Fail dynasty. He routinely covers 14 clinics in a day: "I never heard anything coming out with the statement of city pump politics. If you are pumping for people in a parish, they're as good and as important as the people in the city."
Donal Harrington wants Michael to highlight the issue of funding for a local respite services for his fourteen year old daughter, Georgia, who has a rare genetic order called a 2Q24.3
RTÉ One, Monday 21st October, 9.35pm