Living Colour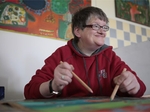 Living Colour is a fascinating documentary and an intimate portrayal of a extraordinary artists' collective in rural Ireland, where we meet Karl, Lorna, Francis, Andrew and Declan, some of whom cannot speak, but find they can express themselves truly through their art, their incredible abilities overcoming their disabilities.
By spending much time in an artists' studio with a difference at the Kilkenny Centre for Arts Talent (KCAT) in Callan, director Éamon Little delves into the world of the dozen or so artists who work there, all of whom comprise a very individual mix of artistic talent and special needs. But the KCAT studio operates with as little reference to needs as possible, focusing instead on ability and here, in an atmosphere refreshingly free of ego or commercial concerns, these colourful characters make their extraordinary creations, work to commissions and build towards exhibitions.
Living Colour is a Wild Fire production for RTÉ.
Produced by Martha O'Neill and Adrian McCarthy
Directed by Éamon Little
RTÉ One, Tuesday 20 March 2012, 10.15pm