Living the Dream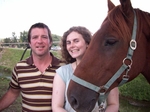 Living the Dream is an exciting, four-part, series about Irish families who've always dreamt of moving abroad but are cautious of taking the plunge. This series gives them the opportunity to live their dream for a week - without sinking their lifelong savings into a venture they're not 100% sure will succeed. The question is, will it be the dream they long for or the nightmare they fear?
In each episode our participants get to run a business in a location they are keen to discover. We follow our families as they travel to Croatia, Normandy, New York and Bordeaux and get hands on experience in their dream businesses. But can they overcome the challenges they meet? Are they able to handle temperamental owners, cultural differences and the language barriers?
Bibi Baskin, who has lived her own dream for the last decade in India, returns to Ireland again to narrate the series.