Living Lightly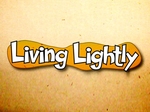 Reduce, reuse, borrow, barter, choose cheaper alternatives, break bad habits, grow your own or do without. Spend less. Live a better life. Welcome to Recession 2.0.
Living Lightly is a timely and illuminating six-part series that follows three Irish families who must revolutionise the cost and quality of their lives. All three families are living way beyond their means and for the next ninety days they'll be advised, monitored and mentored by two sympathetic taskmasters Conor Pope and Ella McSweeney. Their goal: to forget what they want but simply can't afford anymore and focus on what they actually need. To live more and pay less.
Contributors
Conor Pope
Conor Pope is an author, broadcaster and journalist.
Ella McSweeney
Ella McSweeney is a television presenter and she also works in radio.
The Families:
Des and Mary O'Connor live in Longford with their four daughters Isobel, Camilla, Alicia and Imogen. With levies and cuts their income does not stretch as far as it used to and Des and Mary have always had difficulty saying 'no' to their four daughters.
Laura and Dave McArdle and their three children from Stepaside have seen their comfortable life change overnight. Dave is an electrician and until work dried up at the end of last year he, Laura and the children only ever knew good times
Paul and Maria McGregor from Howth are about to celebrate the arrival of their fourth child. Paul is a stay at home Dad, he took redundancy from the bank three years. Maria is a pilot working part time with Aer Lingus, they need to take control of their spending and want to work towards a more self-sufficient life.