Lifers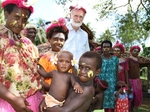 What would possess you to risk your life in the service of others, for decades, in one of the world's toughest and most dangerous environments? Meet three people who have.
In prison terms, 30 years is a life sentence. It is also the average period spent by Irish missionaries in the field, working in the service of the poor and oppressed, often in the most challenging, dangerous and brutal environments on earth. These are the LIFERS - the subject of award-winning filmmaker, Ruán Magan's latest documentary.
For LIFERS, Ruán travelled 22,000 miles to some of the world's remotest regions and spent two weeks each with three missionaries who work in some of the toughest circumstances on the planet, in Papua New Guinea, South Sudan and the Amazon region of Brazil. He found that the lives these men and women lead is often defined by danger, loneliness, frustration and hardship. And yet they seldom complain. They exist in a state of near poverty, hustling for whatever resources and funds they need, fighting constantly for the needs of people who cannot fight for themselves. Circumstances improve for the poor they work with only slowly, if at all. Vested business and political interests conspire to enrich themselves while keeping the majority poor. The work of the missionaries often brings them into conflict with the powerful and their lives are frequently at risk. By any standards the work these people do could be said to be heroic, but none of them would feel comfortable to be so described.
In trying to figure out what motivates them personally to keep going, LIFERS discovers an unexpected truth of human nature. Each of the missionaries says the same thing: the more they work and give to other people, the more they get back in return. What apparently drives them to sacrifice their lives so completely is the pursuit of happiness.
The three missionaries featured are:
Fr. John Glynn, a priest who runs the We Care Foundation in Port Moresby, Papua New Guinea, one of the world's most dangerous cities. John, originally from County Clare, has spent 5 decades working in Papua New Guinea.
Sr. Pat Murray, a Loreto sister who worked in education in Ireland and is now the executive in charge of Solidarity with South Sudan, an organization that is pooling the resources of 200 missionary orders towards the basic development needs of South Sudan, which is the newest country in the world.
Fr. Pat Brennan, a Divine Word Missionary who has lived in Brazil for more than 3 decades and who fights for the human rights of indigenous Indians living in the Amazonian rain forest.
They are part of a missionary movement which once attracted thousands of Irish men and women, but they know that they are amongst the last of their kind. No-one will replace them. Given that the circumstances of those they serve have, in some cases, worsened, not improved, what difference did they make? Was their sacrifice worth it? And what have they learned about themselves, their God and the Church they serve? With startling candour, all three discuss their faith, their motivation and the meaning of a life spent in service.
RTÉ One, Thursday, 10.15pm