Junior Vets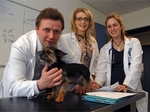 This six-part fly-on-the-wall series follows the lives of junior veterinary students as they make their way through their last year of study at UCD.
University College Dublin has Ireland's only school for vets where those clever enough to gain entry learn all aspects of small and large animal health. We chart the highs and lows of four fifth year students as they work through the last phase of their course in veterinary medicine.
Days are busy with study. Assessment is on-going as students move from one subject to another.
As well as juggling the hectic workload of study, the students have to volunteer their time working in the college's referral hospital. We follow the junior vets as they work directly with the public and gain experience with real life problems with animals.
Along with new challenges within the teaching hospital, the students are put through their paces in the field as they go out with qualified vets on work experience. It's a tough time, as they leave the safe confines of the college and put the theory of the classroom into practice. Everything rides on this this, their final year.
Fiona, 23, from Cork had considered nursing as a career but with family encouragement, has taken up the challenge of veterinary science.
Martin, 27, is from a farming family in Wexford. Unlike many in his class, he wants to work with large animals and he's used to the rough and tumble that goes with them.
Roisin, from Galway, has loved animals from a very young age and would love to be a vet with an animal charity.
Claudia, from Mayo, is really into horses and for her becoming a vet is a natural choice, albeit tough going.
Episodes
Episode One
Claudia and Roisin are on their large animal section of the course and they get to help out on a complex knee operation.
Eager to be well prepared for upcoming exams, Martin takes Fiona and fellow classmate Sara to the family farm in Wexford where they will test what they have learnt in class. Fiona, who wants to work with small animals, is outside her comfort zone.
At UCD, Roisin and Claudia look after a much loved dog who needs an ear operation. The dog is particularly important as it's a companion pet for a disabled child.
Episode Two
Fiona feels the pressure of ongoing exams. The constant assessment is tough and she faces the challenge of the all-important farm animal exams. Meanwhile Roisin is balancing study with work in the college's busy referral hospital. She finds it tough dealing with a dog whose owner is really anxious about its prognosis. Martin is under stress with exams and Claudia rehabilitates a dog with back problems.
Episode There
On this episode, the students go out on work experience. Their course requires a certain number of weeks on work placement, so Martin goes out and about with an all female practice in Clare where he gets stuck in to his favoured environment, working with farm animals. Down in Cork, Fiona is with a specialist animal hospital where she gets involved in a life or death operation on an elderly dog who was hit by a car.
Episode Four
The pressure takes its toll on Claudia as she works around the clock on study.
Fiona gives a dog intensive care who has pins put in to fix its legs after it was hit by a car.
And the students let loose at the annual vet ball. It's the last celebration after five years of study.
Episode Five
Fiona goes back to the Cork specialist animal hospital and learns a lot in her week of work experience. She does her first cat spay operation there and then heads back to Dublin to do her all important American Veterinary exam. She will need this if she wants to work in the USA.
Meanwhile in Galway, Claudia is back out on work experience too, at a small animal practice in Claremorris. Here she faces a tough decision with a very sick cat. The realities of being a vet come to life after years of studying textbooks.
Back at UCD animal hospital, Martin is involved in treating a dog with cancer. Fortunately for the dog, chemotherapy is available for animals and he's given the full treatment.
Episode Six
The pressure is on as the students reach the end of the road and their final exams. Passing this decides if they become qualified vets. Roisin takes care of a calf on her emotional last day at college. Normally cool headed Martin starts to feel the pressure and Fiona has nightmares about failing.
RTÉ One, Thursdays, 7.00pm