John Lonergan's Circus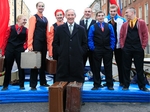 In this new four-part documentary series for RTÉ, former governor of Mountjoy Prison John Lonergan is working with eight young people from disadvantaged communities around Dublin who have run away and joined the circus.
Most of these kids are early school-leavers. Some have had difficulties in either their home lives or community lives. Since January, this group of teenagers, most of whom had barely left their own neighbourhoods, have been spending two days a week with the Belfast Community Circus School and their professional instructors. The School's mission is to "transform lives and communities through the power of circus arts and street theatre".
This is an internationally tried and tested method of helping at risk young people learn valuable social, civic and interpersonal skills. The series is not designed to turn these young people into professional circus performers but aims to help potentially wayward teenagers by boosting their creativity, self esteem, teamwork and discipline.
All of the young people in the show come from Dublin. Paul is 18 and comes from O' Devaney Gardens. Eddie is 17 and is from Ballymun. Anton is 16 and is from Finglas. Jake is 15 and from the inner city. Francesca is 17 and from Inchicore. Chantelle is 15 and from Clondalkin. Amiee is 15 and from Ballyfermot.
Throughout his life as governor of Mountjoy Prison, John Lonergan met young men and women whose lives had often been dictated by circumstance of birth, perpetuating an intergenerational cycle of disadvantage, drug and alcohol abuse, poverty, crime and unemployment in troubled areas of Dublin. He believes in early intervention and in investing in young people to break this cycle. Through this unique project, John Lonergan and The Belfast Community Circus have been trying to do just that.
"The most important thing for anyone working with young people is they must have a fundamental belief in that young person. They will certainly test your patience and endurance at times, and sometimes you could say I'm not going any further but we must never give up on them. My own personal belief is every young person has potential, every young person can make it if we, the adults, and society in general sustain that effort and support."
The circus training is intended to lead to a public performance in the Supervalu Big Day Out in Merrion Square as part of the St. Patrick's Day Festival. Permission to perform requires a very high standard which in turn requires huge commitment and focus. This series charts the highs and lows of the teenagers' time in Circus School but much more importantly offers an insight into their lives and stories.
This project is about social inclusion at its core, and these young people's life chances and opportunities. John Lonergan's Circus seeks to help this group of teenagers discover talents in themselves and develop as pro-social and confident members of our community.
John Lonergan's Circus is produced by Independent Pictures for RTÉ and is made with the support of the Broadcasting Authority of Ireland.
RTÉ One, Thursday, 10.15pm