Irish Pictorial Weekly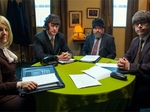 The six-part satirical sketch show that will air every Sunday night at 9.30 from 22 March.
Series two of the programme - which aired last year - included sketches and media manipulation featuring characters like Angela Merkel, Enda Kenny, Michael Noonan, Anne Doyle, Gerry Adams, civil servant committees, court reporters and RTÉ presenters.
There'll be more of that, as well as an array of new characters including cavemen, Phil Hogan, and people who press buttons.
Featuring the writing and performing talents of Barry Murphy, John Colleary, Tara Flynn, Colum McDonnell, Michael O' Sullivan, Eleanor Tiernan, Paul Howard, Paul Woodful and Jay Stanbridge.