Ireland's Oceans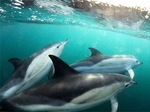 Ireland's Ocean is a major new four-part ocean wildlife series for RTÉ exploring the wonderful and diverse creatures that live in the seas around Ireland, from dolphins and sharks to plankton and the myriad of tiny colourful creatures that live in our shallow waters. The series looks at the history of man's relationship with and response to the sea in Ireland, examining the common perception of creatures like dolphins and sharks . are dolphins highly intelligent, sensitive creatures capable of healing sick children? Why are worrying numbers of dolphins washing up dead on our Atlantic coast? Are sharks terrifying animals waiting below the sea surface to eat us? The truth transpires to be quite a surprise and leaves us with considerable food for thought.
In other areas, the series takes us on a journey into wild and the colourful underwater world in the seas around Ireland, encountering an abundance of exotic creatures, many documented for the first time in this area. Throughout the programmes, there is a strong sense of the interconnectedness of life, and natural balance within this world, as creatures depend on each other's presence to sustain life.
Programmes
PROGRAMME 1 - DOLPHINS
There are 27,000 common dolphins living in Irish waters and half the European population of bottlenose dolphins, and yet we still have limited knowledge of things like their diets and breeding habits. In this programme we follow scientists Dr. Joanne O'Brien and Dr. Simon Berrow as they unveil the secrets of dolphin social groups and look at the welfare of dolphins in Irish waters.
Simon investigates what may be causing dead dolphins to wash up at an alarming rate on our Atlantic shores. Dusty is a solitary bottlenose dolphin that has been living off the Clare coast for ten years. In the summer of 2013, she made global headlines when she attacked several swimmers, causing serious injury. We meet people who have built their lives around developing a relationship with Dusty and hear from Dr. Simon Berrow what exactly might be going on with these interactions and what the consequences may be.
PROGRAMME 2 - SHARK KILLERS
With almost forty species of sharks and thirty species of ray, the seas around Ireland have always abounded with these creatures. Porbeagle sharks are close relatives of the great white and until recently thrived in Irish coastal waters, while blue sharks, still appear in large numbers during the summer months.
In this programme, Clare resident and current British Wildlife Photographer of the Year, George Karbus goes underwater and face to face with sharks to examine whether they truly are mankillers. We follow the conservation efforts of Dr. Edward Farrell in placing satellite tags on porbeagle sharks off Donegal and look at the global decimation of sharks, scientists estimate that 100 MILLION sharks are being killed annually, mostly to use their fins in an expensive soup popular in Asia. Tralee Bay is one of the most unique marine habitats in Europe and a summer breeding grounds for some shark and ray species.
Several of these species are no longer found anywhere else in Europe due to over-fishing, Dr. Maurice Clarke from the Irish Marine Institute looks at the history of these creatures and what impact their decimation may have on our ocean eco systems.
PROGRAMME 3 - LIFE IN THE SHALLOWS
The shallow seas around Ireland are some of the most fertile on Earth. Storms churn up nutrients from the sea floor which combine with sunlight to create a fertile and abundant ecosystem. Filmed during the late winter of 2013, when the largest ocean
storms on our planet hit the West coast of Ireland, we witness massive ocean swells crashing into our coast and look at their impact underwater.
The programme shows the abundance of life from microscopic plankton to the myriad of small colourful creatures and their inter-dependence.
We encountering thousands of breeding jellyfish off the Kerry coast in a scene never before filmed in Irish waters.
Dr. Cillian Roden outlines the potential impact of nitrate run-off from land to sea and
we see how invasive seaweeds are threatening areas of our coastal waters.
PROGRAMME 4 - OCEAN HABITATS
The last programme in Ireland's Ocean looks at fish and crustaceans and how they have adapted to living in different marine habitats around Ireland. Sand is our most common sea floor habitat and creatures have adapted wonderfully to use it for both camouflage and shelter. We see flatfish and crabs, whose skin colour exactly matches the sandy bottoms, and their predators such as stingrays hunting over the sands.
The thousands of species of seaweeds in Ireland provide a fertile habitat for smaller creatures. We see how some creatures manage to grow seaweeds on their shells for camouflage, while urchins actually eat the kelp.
While most animals sleep during the night, in the sea a new wave of creatures come to life. Little Cuttles are an amazing creature capable of changing their body colour several times a second, we meet them hunting, dancing and mating at night time on the sea floor off our Atlantic coast.