Ireland's Fittest Family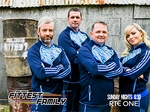 Starts,Sunday 30th October, 6.30pm on RTÉ One
Since exploding onto our screens in 2014, three remarkable families have been crowned Ireland's Fittest Family. Now it's the turn of 12 brand new super fit families to take on Ireland's toughest television challenge. Mairead Ronan returns to host series 4, which will deliver the usual mud, sweat and tears, and some gruelling surprises, but this year the courses are harder than ever before.
This year there have been record numbers of applicants, each hopeful of bringing home the title. Over 8 weeks 12 of the fittest, fastest and strongest families in the country will push themselves physically and mentally to the absolute limits, each vying to be the last family standing. These families will hurtle themselves at some of the most challenging obstacle courses, and terrains Ireland has to offer, some never seen before on the show, and some Fittest Family favourites.
As always 4 Irish sporting legends will be coaching the teams, hopefully to Fittest Family victory. The coaches are tough, their reputation is on the line, and they are here to win. Davy Fitzgerald, Anna Geary and Alan Quinlan return to the competition, joined by new coach, former premiership soccer legend, Stephen Hunt.
With €15,000, and the coveted title at stake,
the battle is on.to find Ireland's Fittest Family 2016
About the Coaches
Davy Fitzgerald, Anna Geary & Alan Quinlan all return to the the coaching line-up and this year they are joined by, former Irish and International soccer ace, Stephen Hunt.
Davy Fitzgerald
Last year ex-Clare Hurling boss Davy Fitzgerald finally coached his family the O'Brien/Devines from Waterford to Ireland's Fittest Family victory. After tasting success in the competition, Davy Fitzgerald is now more determined than ever to make it 2 years. Davy Says about Fittest Family:
'Having been with Ireland's Fittest Family from the beginning, it's a competition I really believe in. The families throw themselves into the challenges and are hugely competitive. Coaching the winning family to victory last year was an amazing feeling but this year I intend to do it all again. The other coaches have their work cut out for them, as I have my eye on the prize'
Anna Geary
After narrowly losing out to Davy Fitzgerald in last year's final, former Cork All Star Camogie captain Anna Geary is back and she is determined to win.
Anna says:
"Last Year was a baptism of fire for me. Having watched the show as a spectator, I was aware I had large boots to fill when it came to following after Derval O' Rourke and last year I was a little naive. This year, I'll match fire with fire and be more equipped to deal with the other coaches. My attitude in life and in sport is "Why can't you win?". This year I'm more experienced, more confident & I will back myself a little more this time round".
Alan Quinlan
Re-joining Davy and Anna is returning former Munster and Ireland rugby legend, Alan Quinlan who has a lot to prove this year. He was the only coach to go out in the semis last year.
Alan says: "Going out in the semis last time was disappointing, but I know now what is needed, and I am back to take my families to the final this year. I am back to win".
Stephen Hunt
Finishing off this years coaching line up is the new kid on the block, former Irish & International soccer star, Stephen Hunt. Hunt is looking forward to taking part & brining his own feel & experience to the show and is hoping for a football family to coach all the way to the final. Stephen is talking tough already and says:
"As a professional sportsman for 19 years all I want to do is win. Only the strongest will survive, and you will if you are on my team!"
Episodes
TX-1 - Sunday 30th October 2016 - Tough Mudder (Co. Meath)
'First Qualifiers'
Coaches - Davy Fitzgerald & Stephen Hunt
Families
The Bailys - Co. Cork
The Egans - Co. Offaly
The Hollands - Co. Dublin
The Martizs - Co. Dublin
The McCarthys - Co. Clare
The Mullins - Co. Limerick
(Ep 1 of 8). Ireland's Fittest Family explodes back onto our screens for a spectacular 4th season. Hosted by Mairead Ronan, sporting legends Davy Fitzgerald, Alan Quinlan and Anna Geary return as coaches, joined by new coach Irish and international soccer star Stephen Hunt. 12 brand new families are put to the test in the series, and will face terrains and obstacles that are tougher than ever before. This week coaches Davy Fitzgerald and Stephen Hunt put the first 6 families through their paces in the world famous Tough Mudder, in Co. Meath. With the Blockness Monster time trial and a gruelling eliminator to contend with, which 4 families will be strong enough make it through to be selected by Davy and Stephen, and which 2 will be leaving the competition tonight? Who has what it takes to win 15,000 euro and the title of Ireland's Fittest Family 2016?