In Good Hands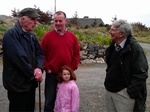 Throughout the '70s and '80s, David Shaw Smith and his wife Sally captured the intricacy and brilliance of Irish craft in the landmark RTE series, HANDS. Now aged 70, and still filming, Shaw Smith, effectively the 'godfather' of Irish craft, revisits six of the businesses and artisans he filmed in the original series to see how they've weathered the last 30 years, focusing on this new generation of craft workers.
IN GOOD HANDS is a six part contemporary documentary series exploring the life and work of traditional Irish craft-workers and how they've adapted to the demands of the modern world: from elite saddle-makers, iron workers and cobblers, to bespoke tailors, potters and artisan weavers.
Some, like the Powers, a family of metalworkers from New Ross, are object lessons in entrepreneurial spirit, adapting in the face of competition and cheap imports from abroad. Others, like the Tuttys of Naas are third generation cobblers who have used technical ingenuity to re-invent themselves in the 21st century. And a lucky few, like Nicholas Moss Pottery and Berneys saddle-makers, have prevailed because they are simply the best in the world at what they do.
The world of Irish craft has changed a lot in 30 years but, despite the series' important emphasis on continuity, IN GOOD HANDS is rooted firmly in the present, showing the craft industry as a reflection of Ireland's changing social and cultural spectrum.
IN GOOD HANDS is entertaining, inspirational, feel-good television for viewers of all ages - bringing new relevance to the hugely popular Hands series.
Programmes
PROGRAMME 1 - THE WEAVERS OF DONEGAL (1978)
David visits Ardara in Donegal to see how the once-thriving business of handmade tweed has weathered the onslaught of power looms and international competition.
The centuries old production of hand-made Irish tweed has its traditional heartland in the rural communities of Donegal, especially the small town of Ardara in the south west.
In 1978, when David came here to film the MacNeilis brothers, Conail, Jimmy and John, more than one hundred traditional hand weavers were still plying their trade, making quality jackets, coats, quilts and scarves for leading designers around the world.
The MacNeilis brothers, master weavers and prodigious workhorses, produced exquisite designs for Magees of Donegal from their humble workshop. David meets the last surviving brother Conail, a font of stories and lore from the old days, but now sadly deceased since this series was filmed.
David also visits Studio Donegal in nearby Kilcar, struggling to compete against the mass production giants and power looms of the tweed industry with just two remaining traditional handweavers - both employed on a part-time basis. Here David meets freelance master weavers John Hena and Eddie Doherty - John working freelance, and Eddie, weaving his own designs at his shop, exporting beautiful hand woven fabrics around the world.
PROGRAMME 2 - THE POWERS OF METAL (1989)
David revisits Powers Foundry in Wexford - traditional sand casters who have adapted their ancient craft to the demands of architectural metal restoration.
David Shaw Smith revisits Powers Foundry in Wexford, where he filmed an episode of Hands in 1989. At the time, the tight-knit Wexford family business was run by the late John Power.
Twenty three years on, John's sons Seamus, David and Kevin have graduated from the manufacture of manhole covers and fire grates, working on restoration of historical architecture, reinventing themselves in the face of cheap mass imports from China.
They now specialise in architectural metal restoration, forging decorative features from moulds of the originals, using the skilled and ancient technique of sand casting. We follow the brothers as they restore an ornate bench originally designed by the renowned 20th century iron-founder and engineer Richard Turner who designed the famous glass houses at the Botanic Gardens in Dublin.
We observe the Powers as they prepare for their weekly firing day, when tonnes of scrap metal is sorted, broken up and melted down in the old furnace their father once used to be transformed into new objects.
David discovers that, while the business has adapted to survive, some things haven't changed since he filmed here 23 years ago. Back then David Power played tuba for the local brass band. He still does, and he's since been joined by younger brother Kevin. Both of them working metal by day and playing it by night.
PROGRAMME 3 - BERNEY'S SADDLES (1981)
David revisits Berney's Saddles at Kilcullen in Kildare, one of the oldest family businesses still going strong in the heartland of Irish equestrianism.
In 1981, David came to Kilcullen to document the extraordinary work of Tom Berney and his family - creators and purveyors of, arguably, the finest handmade saddles in Ireland.
Three decades on, Tom still plies his trade along with his son Tom Junior, who's now at the reins of the business alongside his cousin Jamie and his father Jim. Situated next to the rolling plains of the Curragh, the Berney family still hand make custom saddles for almost every discipline of horse sport - from hunting to dressage and cross country to show jumping. in 1981 they made five different models - they now make 25 different types of saddles.
We observe the meticulous crafting and assembly of a competition-grade saddle from a selection of the finest leathers to the sculpting of the 'tree' and the intricate stitching of skirts, knee rolls, panels and reins.
We meet Olympic three-day eventer Joseph Murphy, one of Berney's many professional clients, as he comes to assess one of Tom's newest designs.
John Oxx, one of Ireland's leading trainers, tells us how he has been trading with Berneys since he was a child.
And we explore the fascinating hand-to-hand system of craftsmanship that not only lies at the heart of a generations-old artisan tradition, but continues to ensure the survival of this family business.
PROGRAMME 4 - JOHNSON TAILORS (1978)
David returns to Johnson Tailors in Tullow, Co Carlow, where he first filmed master tailor Tom Johnson and his son Michael at work in the early 1980s, to witness the survival of bespoke tailoring in an age of mass-production.
At one time, nearly every town in the country had at least one tailors shop, founded on that cornerstone of traditional Irish men's attire, the combination wedding, funeral and mass suit.
Today, with huge competition from high street stores, the fine art of bespoke tailoring is on the wane, but Johnson Tailors, now owned by Michael and his son Robin, is still going strong, and is a testament to six generations of tradition.
In an age of machine-made clothing, the old skills of artisanal tailoring are as fascinating and time consuming as ever, with much of the work done with garments draped on the knees of the patient tailor.
We meet loyal customer and local businessman Eddie Nolan who has had his suits made by the Johnsons for more than half a century.
We observe the tailors at work as they create a fine tweed jacket for David, selecting the cloth, perfecting the fit and drape, and working on the painstakingly fine work of hand stitching, lining and adding bespoke detailing that culminates in the proud addition of the maker's mark.
PROGRAMME 5 - "The Shoemaker"
David revisits the artisan shoemaker George Tutty in Naas and observes the painstaking craft of the bespoke cobbler.
In 1979, David came to county Kildare to film traditional shoemaker George Tutty and a family business that had been the very 'sole' of life in Naas since 1946. David returns, 24 years on, to find the business still thriving in the hands of George Senior's son George and wife Marian. Incredibly, all the methods and processes of shoemaking that old George devised and perfected are still alive and well today.
Like other artisan handcrafts in Ireland, shoemaking faces the ongoing challenge of finding skilled workers. Kristoff Jurek came to Ireland from Przytkowice near Krakow in Poland fully skilled and with years of experience under his belt and has been working at Tuttys for six years now.
We join him in the workshop as he skilfully cuts the finest leather and performs the time-consuming sculpture: from measurements to 3-dimensional models of the customer's foot. In a profession where accuracy and precision are everything, we observe the making of a new pair of brogues for David - deftly created by master craftsman Johnny Murray.
PROGRAMME 6 - In Good Hands " The Potter"
David returns to Belleek Pottery in Fermanagh to observe the intricate porcelain sculpture of the last surviving fine china ceramics factory in Ireland. For more than 150 years, Beleek Pottery on the banks of the Erne in Fermanagh has been famed for its fine china ceramics.
When David Shaw Smith filmed here in 1979, the company was in full-scale production and this grand house was a hive of activity. In the space of three decades, the Irish ceramics industry has changed radically. And yet, while competition from abroad has forced many businesses to close, Belleek has adapted and survived. While processes have changed, much of the company's original hand-crafting tradition remains.
David meets potter Fergus Cleary who now manages the design department he worked in as an apprentice in the 1970s. Fergus' family have been part of Beleek for more than 100 years. When Fergus appeared in the original Hands film, he worked in the design department, Today he oversees Belleek's 150 year-old archive.
We also meet John Doogan - chief basket maker in 1987 - who still oversees the painstaking and immensely skilled production of Beleek's trademark ornate porcelain baskets which require a steady hand and a discerning eye to create. Each one is about the size of a thumbnail and the art of sculpting and forming them has taken John years to master. He builds each basket completely by hand, rolling out the porcelain into fine ropes for the fretwork, flattening petals of wafer-thin clay for the flowers.
David revisits Nicholas Mosse Potteries in Kilkenny, where he filmed in the 1980s - a small studio back then which has since grown into a medium size enterprise employing nearly 60 people.
And we observe ceramic artist Isobel Egan - who creates extraordinarily detailed and award-winning art from thin sheets of hand-worked porcelain.