How To Be Happy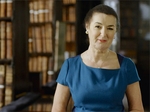 Well-known psychologist Dr. Maureen Gaffney enjoyed great success with her book Flourishing which set out to show how you can have a deeper sense of well-being, meaning and purpose in your life if you consciously work at it. Just like if you want to lose weight you must introduce change in your life for it to happen likewise to be happier you need to pay attention to things you can change. Our happiness is influenced by our genes, our life circumstances however Maureen believes a full 40% of your happiness is based on things in our lives we can actually influence.
For How To Be Happy Maureen invited people from across the country to join her for a series of workshops where the participants would be introduced to strategies to improve their happiness and would then road test them in their own day to day lives. The strategies all come from the growing science around happiness and in the series Maureen meets some of the leading experts in this field of science.
Like the participants who came to the workshops, watch the series, do the homework and see can you be happier.