Homeland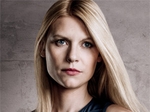 The winner of 6 Emmy® Awards including Outstanding Drama Series, HOMELAND is an edge-of-your-seat sensation. Marine Sergeant Nicholas Brody (Emmy® winner Damian Lewis) is both a decorated hero and a serious threat. CIA officer Carrie Mathison (Emmy® winner Claire Danes) is tops in her field despite being bipolar. The delicate dance these two complex characters perform, built on lies, suspicion, and desire, is at the heart of this gripping, emotional thriller in which nothing short of the fate of our nation is at stake.
Season 5 of Homeland picks up two years after we last left Carrie Mathison. The game has changed for Carrie. Out of the CIA and living in Berlin, Carrie is trying to start a new life but realizes now she?s the one with a target on her back. As the danger intensifies, and without Saul and Quinn to rely on, one thing becomes clear ?she?'s never been at greater risk or with more to lose.
Cast
Claire Danes as Carrie Mathison
Damian Lewis as Nicholas Brody
Morena Baccarin as Jessica Brody
David Harewood as David Estes
David Harewood as David Estes
Diego Klattenhoff as Mike Faber
Jackson Pace as Chris Brody
Morgan Saylor as Dana Brody
Mandy Patinkin as Saul Berenson
Series
Carrie's career at the CIA takes off when she becomes an overseas station chief in a highly volatile region, but every drone strike and tactical raid comes at a cost and she quickly learns the true price of power. Saul must come to terms with being a private citizen while still remaining in the intelligence game.