Hó Hó Hó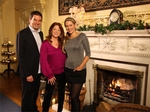 RTÉ One, Monday 19 December at 7.30pm
It's that time of year again! And in a special programme Bláthnaid Ní Chofaigh captures the spirit of the week that's in it - asking some very special guests what they love and hate about Christmas.
Bláthnaid is joined by the fireside in lovely Luttrelstown Castle by "Mooney Goes Wild on One" Éanna Ní Lamhna who decided to marry during Christmas so she didn't have to spend Christmas with her family - straight talking Éanna tells it how it is.

"Nationwide's" Mary Kennedy is no slouch and has all her Christmas Cakes and puddings made and admits that her children have nicknamed her the "Queen of Tack" because she can't pass a shop without buying a bauble or a trinket of some kind - however she also knows that Christmas can be a sad time of the year for many as her mother died on Christmas Eve. Mary shares how she and her family combine her mother's anniversary with Christmas Eve every year - something which brings them great comfort.

Dubliner and GAA Hurler of the Year Liam Rushe loves Christmas as it gives him a break from training and a chance to party.

Fiachna Ó Braonáin and Sports Presenter Evanne Ní Chuilinn, who is expecting her first baby in the New Year, recall their childhood Christmas memories from music to movies.

Prof. Alan Titley not only talks about his favourite Chritmas song "The Little Boy Santa Forgot", he even sings it!

Sinéad Ní Loideáin of TG4 tries to straighten him out on his plans for buying presents but looks like he's a lost cause - like a lot of men when it comes to giving the perfect gift.

Get in the mood for Christmas this Monday on RTÉ One at 7.30pm - some lovely seasonal nostalgia with a bit of a bite!
Where is she now?
While trawling through the archive we came across this gorgeous clip of a little girl telling us about Santa Claus, first broadcast is the programme Newsbeat on December 22nd 1967. Ring any bells?? We'd love to find out who she is and discover whether or not Santa Claus delivered that selection box to her.
Have a listen, have a look, let us know if you can shed any light on our little mystery!
You can view the clip by following this hyperlink RTE Libraries and Archives or else you can just listen in here http://audioboo.fm/boos/585460-dear-santa?utm_campaign=detailpage&utm_content=retweet&utm_medium=social&utm_source=email
Producer / Director - LAURA Ní CHEALLAIGH
Presenter / Reporter - BLÁTHNAID Ní CHOFAIGH
follow us on twitter @RTE_Scannal

RTÉ One, Monday 19 December 2011, at 7.30pm