Heat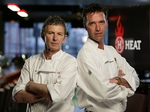 For Heat, eight of Ireland's most enthusiastic amateur chefs will go head-to-head in the kitchen-trial of their lives. There'll be spilt milk, cracked eggs and frayed nerves as our flustered amateurs get hot and bothered under the watchful eyes of two of our most competitive celebrity chefs - Kevin Thornton and Kevin Dundon.
Each week the two Kevins go head-to-head too, as their protégées are pitted against one another.
At the end of each programme, only one of our chefs will stay in the competition, and the atmosphere promises to be intense as our hopefuls flambé, quenelle, dice and dish for paying punters in a very real restaurant. The Heat dining room and kitchen will be
split down the middle, one half for each contestant. But it's the diners and the takings that will decide who goes on to compete in the next round with a chance to become Ireland's Heat champion.