Health Squad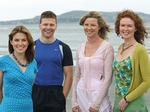 Health Squad is a health and lifestyle series focusing on health and well being and the importance of taking control of our lives. Presented by Sheana Keane, every week Health Squad introduces viewers to a different person in need of a health and lifestyle overhaul.
Each of the ten programmes features someone who learns how to improve their lifestyle and balance their lives with the help of the Health Squad over several months.
Nutritionist Paula Mee, holistic practitioner Karen Ward and personal fitness trainer Padraig Murphy take these volunteers through their paces, starting with a 'health audit'.
Viewers can track their progress as they rethink their lifestyles and discover what works for them.
Producer Larry Masterson: "People used to wait until something went wrong and then went to their doctor. The philosophy now is all about taking control of our health and realising that we are what we eat and how we live. We chose members of the public we could relate to and whom we believe viewers will relate to. We want the audience to recognise these people and think: 'he's just like me', or 'she's just like my sister - maybe this can help her too'.
We hope that Health Squad will also make people aware of what can happen if we don't look after ourselves properly. We hope that viewers will enjoy the stylish, pacy format and find that the way we deal with these issues is very relevant to their own lives."