Feargal Quinn's Retail Therapy, Series 2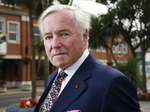 Feargal Quinn's Retail Therapy is back for a second series. The six part series for RTÉ One sees retail innovator Feargal Quinn offer advice to retailers who are struggling to stay afloat in the toughest ever retail environment. Feargal knows how hard retail can be, but also knows how to make it work brilliantly. It's his life's passion. Feargal will once again be sharing the knowledge he has gained from years of being at the cutting edge of Ireland's supermarket wars where the devil is truly in the detail. Having founded and built up Superquinn, one of Ireland's most successful home grown retail brands, Feargal is on a mission to give something back by helping struggling retail business' across the country survive and in some cases thrive against all the odds.
The series champions independent Irish retailers who represent individuality on the streets of Ireland's towns and cities. Feargal is passionate about helping businesses who are putting it up to the multinationals and offering Irish consumers something different than they would get anywhere else in the world. Feargal will help these businesses to eradicate their weaknesses, exploit their strengths and identify a unique selling point which will make them stand out from the competition and attract customers to their door.
From a husband and wife-run pet shop in Tallaght to a 36-year-old gift shop in Edenderry to a recently-opened bakery in Ennis, this year's shops have one thing in common - they are run by passionate individuals who will stop at nothing to remain open and to make their businesses successful again.
Tune in to RTÉ One on Sunday evenings at 8.30pm from May 22nd as Feargal works his retail magic once again.
Episodes
Series 2 Shops:
Programme One
Week 1: McGreal's Gift Store, Edenderry, Co. Offaly
Husband and wife team, Laz and Frances Molloy are struggling to keep their family business afloat as the economic downturn rips through the heart of Edenderry. Having taken over McGreal's Gift store from her father Billy, Frances has lost her confidence and is unsure of what to do next. She desperately needs Feargal's help to turn her business around.
Programme Two
Week 2: Carrie's Cakes, Ennis, Co. Clare
Lone parent, Caroline Gardiner has invested everything into her bakery which she opened over a year ago. A combination of long hours and low turnover has led Caroline to wonder whether she can keep her business going in the competitive retail environment that is Ennis town. She needs Feargal's advice on how she can make her business work more efficiently and increase sales.
Programme Three
Week 3: Standún, Spiddal, Co. Galway
The Standún family in Spiddal have been running their gift and clothing store for three generations, spanning 60 years. Always popular with tourists, Standún has seen its footfall decline in line with the drop in tourism to Ireland. As 27-year-old Cliona Standún takes over the reins from her father Donal, she wants Feargal to help her forge a new modern identity for Standún that will attract both local shoppers and tourists.
Programme Four
Week 4: Village Hardware, Rathfarnham, Dublin
Brothers, Patrick and Tony Quinlan opened their hardware shop in Rathfarnham when the downturn left them without work. Despite being hardware experts, neither of them have any experience in retail and they need Feargal to show them how to become the retailers they know they can be. Can Feargal help them to make their fledging business a success by maximizing their personal charm and hardware expertise?
Programme Five
Week 5: Tallaght Pet Store, Tallaght, Dublin
Husband and wife team, Des and Marion Scanlon have been running Tallaght Pet Store for more than 18 years. With increased competition from multinationals in the area Des and Marion need to update their image and find a unique selling point for their business. Marion has lost her passion for the pet store so can Feargal help them to revolutionise their image and re-ignite their enthusiasm for the ailing store?
Programme Six
Week 6: EJ Sampson Butchers, Drogheda
John Sampson's traditional butcher shop was set up by his father Eamonn in 1960. In a flooded market, John is struggling to move with the times and attract new customers in Drogheda town. Can Feargal show John how to move EJ Sampson's into the 21st century without compromising on its traditional charm and farm to fork philosophy?