Gay Byrne - Father's War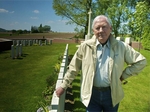 Through the horrors of the First World War, 205,000 Irish men fought on the British side. In those four years of chaos 30,000 Irish died sad, cruel deaths on the field. Among the survivors 65,000 were maimed or injured. For the men lucky enough to return home intact, the outcome was no less appalling. The world had shifted. Ireland was in the throws of revolution and these survivors of another nation's war were an inconvenience best swept under the carpet. As far as many of their friends, their families, their communities were concerned they were traitors, men who'd betrayed their own and for the rest of their lives the insane hell they'd survived in France had to be suppressed, a hidden purgatory they'd carry in silence for the remainder of their lives. Tearing along its path to freedom Ireland had no time to indulge these ghosts of the Great War. Without choice, they settled excluded and silent.
Now, on the eve of his 80th birthday and the centenary of WW1, Ireland's pre-eminent broadcaster, GAY BYRNE, embarks on a personal journey to discover the war secrets his father, Edward Byrne, never told him. Edward, a cavalry man with the 19th Hussars, makes an ideal candidate for an exploration of the war having landed with the first invasion and then being present in most of the important moments of the war including the 1st and 2nd Battles of Ypres, the Battle of the Somme and the final Push. And yet, as he sets out on his quest Gay knows next to nothing about his father's war.
Edward Byrne only once discussed his war years with his son. As a young boy, his father returned home from work to discover Gay writing a school project on the war. Edward lifted up the copybook, read it and then dropped it back on the table with the words: 'it wasn't like that at all.' Edward then proceeded to talk of trenches, rats, filth and hardship for a few minutes until his wife came in and the conversation changed. And that was it. But the family had a strong sense that what ever Edward had endured at war had scarred him deeply. For the rest of his life Edward was haunted by violent nightmares from which he would wake screaming so loudly that it would wake the entire street and after which he would fall into a coma from which he could not be woken. Clearly, Edward's trauma ran deep.
Edward was not alone. As Gay now embarks on a journey to discover what his father endured he also shines a deep light on the experiences of the 200,000 Irish who fought on the same fields as his father and who, like him, were virtually airbrushed from Irish history.
MY FATHER'S WAR, a 1-hour documentary, written and directed by Ruán Magan, follows Gay Byrne on a personal journey of discovery as he pieces together his father experiences during the First World War. We will follow Gay as he travels to the battlefields of France, meets military experts in England and returns to key places in Ireland associated with his father's life including the humble, former family home in Rialto, the Guinness Brewery and Kilruddery Estate, Co. Wicklow where Edward Byrne was born and raised as the son of the coachman.
On his journey Gay meets with leading historians, experts and people who can give him precious insights into his father's early life through which he begins to gain a powerful understanding of how Irish history was written to suit the requirements of Ireland's 1916 creation myth. Gay's journey is broad and all encompassing, as he remains always conscious of the experiences of so many Irish families who endured the same as his father's family did. And yet it is also always a deeply personal one, as Gay Byrne for the first time ever comes face to face with a side of his father he never knew before.
Contributors include:
Keith Jeffrey, Professor of History, Queen's University Belfast
Mary Orr, Gay Byrne's sister
Jack Brabazon, Earl of Meath
Myles Dungan, RTÉ Broadcaster and Historian
John Goodman, Historian with Standto Tours
Joanna Bourke, Professor of History, Birkbeck, College of London
Catriona Crowe, National Archives of Ireland
Edward Madigan, Commonwealth War Graves Commission
John Horne, Professor of History, Trinity College Dublin
David Kenyon, Military Archaeologists / advisor to Spielberg on War Horse