Father Figure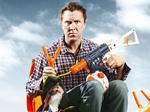 'He's the best and worst Dad'
Monday night comedy on RTÉ Two brings you the new comedy series Father Figure. Produced by the BBC in association with RTÉ this new six-part family sit-com is created and written by Jason Byrne, Jason play Tom - a man who tries to be the best Dad he can to his two sons while his wife works full time. He's the kind of Dad all kids would want and the kind of Dad that all men would secretly like to be.
Also starring Pauline McLynn (Father Ted) as Mary his Mum, Dermot Crowley (Luther) as Pat his Dad, Karen Taylor (Touch Me I'm Karen Taylor) as Elaine his wife, Michael Smiley (Utopia) as his best friend Roddy. Plus guest star Peter Serafinowicz and neighbours played by Tim Downie, David Reed and Margaret Cabourn-Smith.
Jason Byrne, Father Figure is a surprising and funny series following accident-prone stay-at-home Dad Tom Whyte and his chaotic family life. Tom's wife works full time, leaving Tom with two eccentric and energetic boys to look after - and when he's with them he acts more like their older brother than their Dad. He always means well but no matter what he turns his hand to, his children, mum, dad, best friend, wife and neighbours add to the mayhem as he tries to be a Father Figure in the only way he can. He's the Dad that most kids would love to have and the Dad that most men would secretly like to be.
Episodes
Episode One "THE APOLOGY"

After a disastrous incident on the BBQ Tom (Jason Byrne) invites his neighbours over for a meal to say sorry. His family are convinced he'll screw it up and as things starts to go horribly wrong you can bet that this evening will not end well.
In the first episode of the series - after a disastrous incident with the barbecue, Tom Whyte invites his neighbours Brendan and Helen over for a relaxed dinner party to say sorry. With the arrival of best friend Roddy and his parents unexpectedly descending on the house, the pressure's on Tom and it's not looking good. Things take a turn for the worse when wife Elaine arrives back from work and starts on the wine, Drew is sick on the trampoline and mother Mary gets stuck in the bathroom. By the time Brendan and Helen walk up the drive, Tom's at his wit's end and it looks like he'll owe them another apology very soon.