EY Entrepreneur Of The Year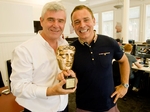 THE BATTLE OF IRELAND'S ENTREPRENEURIAL ELITE
They've met the competition, they've faced the judges and now the journey of Ireland's top entrepreneurial talent through the EY Entrepreneur Of The Year programme will be documented in an RTÉ One series kicking off on Monday 30th September at 8.30pm. The programme will air every Monday at 8.30pm until 21st October with the live awards on Thursday 24th October at 10.40pm.

Spread over five action-packed episodes, the series follows 24 of Ireland's best entrepreneurs and Chairman of the EY Entrepreneur Of The Year judging panel, Padraig Ó Céidigh, as he travels across the island of Ireland to meet the men and women competing for the title of EY Entrepreneur Of The Year.

Split between three categories - Emerging, Industry and International - the 24 finalists represent the full spectrum of Irish businesses, from the "ones-to-watch" to our trailblazing international market leaders. The series offers an all-access pass into the finalists' journey through Ireland's premier business awards programme, tracking their progress as they come face-to-face with Ireland's entrepreneurial heavyweights for the final judging interviews. The penultimate episode follows the finalists to the USA as they join over 100 EY Entrepreneur Of The Year Alumni on the high-octane CEO Retreat across Chicago, New York and University of Notre Dame.

Mark Little and Miriam O'Callaghan, reunited for the first time since Little's departure from Primetime, will take to the stage at the televised live awards, the final episode of the series, to co-present the EY Entrepreneur Of The Year Awards Night. Held at the Citywest Hotel in Dublin on 24th October, the Awards will bring together over 1,300 of Ireland's business elite to celebrate our island's top entrepreneurs. A winner will be selected from each of the three categories and, from these three winners, an overall winner will be selected as EY Entrepreneur Of The Year 2013.

EY Entrepreneur Of The Year 2013 Finalists are:
Emerging
Automated Intelligence - Mark Godfrey & Simon Cole
Barracuda FX - Kieran Fitzpatrick & Maurice Curran
Budget Energy - Eleanor McEvoy
Datahug - Connor Murphy & Ray Smith
Merit Software - Kerril Burke & Paul Burke
Sixteen South - Colin Williams
Sugru - Jane n­ Dhulchaointigh
Wisetek Solutions - Sean Sheehan
Industry
AMCS Group - Jimmy Martin & Austin Ryan
Creagh Concrete Products - Seamus McKeague
Freshgrass Group - Liam Woulfe
Jam Media - John Rice
Keelings - Caroline Keeling
Kylemore Services Group - Brian Hogan
Mash Direct - Martin Hamilton
Kellen Investments - Peter Dixon
International
ATA Group- Peter Cosgrove
Callan Bacon Company - John Walshe
Escher Group Holdings plc - Liam Church & Fionnuala Higgins
Lifes2Good - James Murphy
Samco Agricultural Manufacturing - Samuel Shine
Sofrimar - Lorcan Barden & Leslie Bates
Suretank Group - Patrick Joy
Voxpro - Dan Kiely & Linda Kiely