Electric Picnic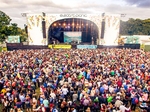 RTÉ at Electric Picnic 2015
in association with Electric Ireland

Saturday night is Electric Picnic night on RTÉ2, as the station provides dedicated Electric Picnic coverage on Saturday, 5th September, from 9pm right through the night.
RTÉ2's coverage will be fronted by Eoghan McDermott and RTÉ 2fm's Jenny Greene, with performances from main stage headliners, while Al Porter and Blathnaid Treacy will be reporting from the 'Picnic' arena, bringing the latest news, exclusive artist interviews and festival happenings.
And, In addition to the headline acts on the main stage, RTÉ2 will be at the 'Other Voices' Electric Ireland stage to bring you some of the musical highlights from an eclectic line-up of national and international artists.
RTÉ2, Saturday 5th September, 9.00pm