Eco Eye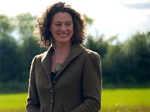 Eco Eye returns in a new harder hitting documentary series format. Duncan Stewart is joined by ecologist Anja Murray to investigate Ireland's major environmental issues, why they are centrally important to public health and the economy, and what the obstacles are to shaping better policy for now and the future.
Episodes
Episode 1

Duncan Stewart travels to the geologically spectacular country of Iceland where the effects of Climate Change have never been more obvious. Glaciers are melting in Iceland and across the planet contributing to sea level rise at an alarming rate. Duncan investigates how Ireland will look in the future, how communities will be affected in different ways and what we can do to stem the tide.
Episode 2 'Putting a Price On Nature'
Anja Murray has spent her life in love with nature, and her career protecting it. In this Eco Eye special she tries to find out if you can put a value or price on nature, and where we would be if we didn't have the free ecological services that nature provides. Through this journey around Ireland, she explores where and why nature is under threat and what that means for all of us.
Episode 3 - 'The Power Of Wood'
We've long known that we could not survive in this world without forests. Forests filter the air we breath and regulate our climate. But across the planet forests are under attack and disappearing at an alarming rate.
Ireland already has one of the lowest levels of forest cover in the world, and to play our part in the fight against deforestation we would need to grow a lot more forests in the next ten years. But what would growing forests mean for Ireland and Irish landowners? Can there be an economic case made for growing more forests?
In this episode Duncan Stewart investigates the economic implications of more forestry, and discovers that forestry and forest products could be an area of major economic growth in the coming years if we played our cards right. We just need the right smart policies in place to make that happen.
Episode 4 - 'Genetically Modified'

GMO (Genetically Modified Organism) technology in agriculture remains the most contentious issue at the heart of the environmental movement today.
Many environmentalists believe this technology is detrimental to the environment, and science is being used as a tool by private industry to monopolize our crops.
Yet many scientists and some genuine environmentalists consider GM technology to be hugely important to the future of the human race and to the environment.
But does the argument need to be so polarized? What are the real issues with GM technology and what does it mean for Ireland?
Episode 5 - 'Poisoned Water'

While the arguments continue about who should pay for water in Ireland. Eco Eye investigates why much of Irelands groundwater is polluted with bacteria that can be deadly. Hundreds of children are poisoned by the new VTEC bacteria, mostly from private wells every year, this can lead to chronic kidney failure and even death. New presenter, ecologist Anja Murray goes on a journey from the highest mountaintops to deep under the ground, tracking the sources of pollution around the country. Anja investigates who is responsible and how the problem can be fixed.
Episode 6 - Green Electricity

In the race to divest from fossil fuels, wind energy has become one of the most controversial subjects in the green debate across the country. Public opposition to windfarms is at an all time high, with protest groups across the country rallying under a "No Wind' slogan.
But does it have to be this way? In this episode, Duncan explores the main reasons for opposition towards wind energy in Ireland, and asks why other countries like Denmark and Germany have almost 100% acceptance of wind energy through a community model that sees locals benefit.
Duncan discovers that wind energy in Ireland is actually making our electricity prices cheaper, while reducing fossil fuel imports and emissions. But Duncan asks why communities in Ireland are not benefiting from windfarms the way they are in the rest of Europe and what is likely to happen in the next five years when windfarm development in Ireland is set to triple.
Episode 7 - 'Community Co-Ops'

In fifteen years of making television programmes about sustainable communities, Duncan Stewart has been all over Europe visiting communities that have transformed their economies by adopting strategies to produce their own food and renewable energy.
This concept has seemed far-fetched in Ireland, until now. In this episode Duncan investigates if the revitalization of the cooperative movement in Ireland could be the answer to both sustainability and economic security for rural Ireland.
Episode 8 - 'Fighting Flooding'
Earlier in the series Duncan Stewart travelled to Iceland to explore melting ice caps and sea level rise. It's now clear to all climate scientists and oceanographers that the world's climates are rapidly changing, and as the ice caps continue to collapse, sea levels will continue to rise. Ireland could be hit with sea levels 2m higher than they are today by the end of this century. Even the most conservative estimates of sea level rise will completely change the face of Ireland's coast in the next 50 years. Rainfall patters are also predicted to have a huge impact on river flooding in the future. In this episode Duncan Stewart travels to some communities in Ireland that are already being affected by increased flooding, and investigates how they plan to fight the rising tide.
Episode 9 - 'Wasted'
Across the planet, habitats are being squeezed and ecosystems are being diminished at a faster rate than every, to feed the demands of western culture. This exploitation of resources if left unchecked will mean the end of global biodiversity as we know it in the near future. Resources are mined, damaging land overseas to create products that we use in our everyday lives and then throw away. Most of these resources do not go back into the system but are often burned into the atmosphere, dumped into landfill or dumped into rivers and the ocean. Today, a giant sea of plastic engulfs the Pacific and Atlantic Ocean's, which is just one sign of the unsustainable model of the waste system. This episode will explore the big issues of waste in Ireland and find practical, viable and economic solutions to the waste and resource issue. These solutions would not only solve Irelands waste problem, but would create up to 8,000 jobs here, while showing the rest of the world how a western life is possible without destroying the planet.
Episode 10 - 'Community Energy'

The model of centralized power production dominated by big utility companies is being broken all over Europe. As many communities in Europe have now turned their back on importing fossil fuels by generating their own renewable energy, they are proving that they can keep jobs and money circulating in their local economies. But what is stopping these opportunities from being realized in Ireland? Duncan Stewart investigates the state of community energy projects in Ireland, and explores the obstacles to real community sustainability here.