Dúshlán 1881 - Living the Eviction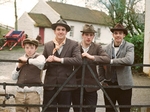 On the 28th December,1881, 13 families were evicted from their homes in the village of Carrowmenagh, Co. Donegal. Not able to pay the rent mothers, fathers, children and grandparents were all flung out from their simple cottages or long houses onto the road by agents of the landlord. Some found refuge with relatives locally, others left for America. Evictions like these were common in Ireland from Famine times right up to Independence and even today eviction, losing your home, is still highly emotive and a most traumatic event in anyone's life.
The Challenge of 1881 or DÚSHLÁN 1881 - is to bring this history to life. Two families live for 3 days and 3 nights as their ancestors would have lived in the late 19th century. We tell the story of eviction through their experiences.
For this series - we have traced descendants of the original evictees and one family - the McLaughlins - return from America to take up this unique challenge to live in the footsteps of their own ancestors. For some of them, it's their first ever visit to Ireland. For all of them it is an emotional reconnection with their family's past.
The other family, Muintir John Ghráinne have a shorter journey, travelling only from Rann na Feirste, but nevertheless, they typify the hardy families who were forced onto poorer land, an internal migration which so often has been forgotten. Those made landless and displaced within the country often had to find alternative ways of earning what was a subsistence living. Muintir Uí Ghráinne want to explore their own family history and honour the resilience and ingenuity of their forbears.
Presented by popular Donegal broadcaster, Rónán Mac Aodha Bhuí, Dúshlán 1881 Living The Eviction is scheduled to broadcast on RTÉ One as a landmark series of Seachtain Na Gaeilge and is part funded by the Irish Language Broadcast Fund.
Experts from a range of disciplines from across Ireland specialising in 19th Century history, provide the context of the evictions, trace the history of the families and how they would have lived at the time. They provide the historical narrative to the lived experiences of our 21st Century families living the lives of their 19th Century great, great, great grandparents. This unique primetime Irish language series will tell the amazing story of one village and its inhabitants whose descendants return for the most challenging and rewarding experience of their lives.
TEAM
Filmed and Directed by IFTA award winner, Cathal Watters. Produced by Bernadette Morris.
Executive Producers, Jane Kelly and Philip McGovern. Funded by RTÉ and ILBF
Ar an 28ú Nollaig, 1881, díbríodh trí theaghlach déag as a gcuid tithe ar an Cheathrú Meánach i nDún na nGall. Ní raibh siad in acmhainn an cíos a íoc. Cuireadh máithreacha, aithreacha, leanaí agus seantuisimitheoirí amach as a gcuid tithe ceann tuí ar na bóithre. Fuair cuid acu dídean ó dhaoine muinteartha san áit, thug cuid eile acu a n-aghaidh ar Mheiriceá. Bhí díshealbhú mar seo fairsing in Éirinn ó aimsir an Ghorta go dtí go bhfuaireamar Saoirse agus ina dhiaidh. Fiú sa lá atá inniu ann tá díshealbhú, tú a chur as seilbh, ar cheann de na rudaí is measa is brónach a d'fhéadfadh tarlú do dhuine.
Sa tsraith seo Dúshlán 1881 Living the Eviction tabharfaimid an t-am atá caite chun beochta.
Ar feadh 3 lá agus 3 oíche, mairfidh dhá theaghlach mar a mhair a sinsear rompu sa 19ú céad. Inseoimid scéal an díshealbhaithe tríothusan.
D'aimsigh muid teaghlach amháin, muintir McLaughlin as Meiriceá, atá gaolta le teaghlach amháin a díobríodh ar an Cheathrú Meánach agus fillfidh siad don dúshlán ar leith seo. Seo é an chéad chuairt ag cuid acu go hÉirinn. Ceangal goilliúnach leis an am a caitheadh a bheidh ann dóibh ar fad.
Níl an t-aistear chomh fada céanna ar an teaghlach eile, Muintir John Ghráinne, a bheidh ag teacht as Rann na Feirste. Sampla iad na teaghlaigh seo de na teaghlaigh ar cuireadh iachall orthu maireachtáil ar an ngannchuid ach a rinne a mbealach agus a mhair. Deis a bheidh anseo dóibhsean ómós a thabhairt don teacht aniar a bhí ina sinsear rompu.
Á chur i láthair ag an gcraoltóir aitheanta as Dún na nGall, Rónán Mac Aodha Bhuí, is é Dúshlán 1881 Living The Eviction an tsraith is suntasaí a chraolfar ar RTÉ One le linn Sheachtain na Gaeilge, sraith a fuair páirt-mhaoiniú ón gCiste Craoltóireachta Gaeilge.
I ngach clár, tabharfaidh lucht acadúla agus tráchtairí ar fud na hÉireann a bhfuil saineolas acu ar stair an 19ú céad comhthéacs na ndíshealbhuithe, déanfar cur síos ar stair na dteaghlach agus mar a mhair siad ag an am. Sraith inti féin Gaeilge a chraolfar ag buaicam í seo a inseoidh scéal aon bhaile amháin agus scéal na ndaoine a raibh cónaí orthu ann a bhfillfidh a sliocht don dúshlán is mó agus is tairbhí dá saol.
AN FHOIREANN
Cathal Watters a bhfuil gradam IFTA buaite aige a stiúir agus a rinne an scannánú. Léirithe ag Bernadette Morris. Léiritheoirí Feidhmiúcháin, Jane Kelly agus Philip McGovern. Arna mhaoiniú ag RTÉ agus ILBF.
Episode One: (Episode Two: Friday 15TH March, 20.30)
Meet the two families, one Irish and one American, who will spend three days and three nights living the lives of their ancestors while telling the story of the terrible evictions in Carrowmenagh, Donegal in 1881.
Meet the two families, one Irish and one American, who will spend three days and three nights living the lives of their ancestors while telling the story of the terrible evictions in Carrowmenagh, Donegal in 1881.
Episode Three
Walking in the footsteps of their ancestors, our two families learn how gender roles vary from those of today. Our American family receive a surprise visit and a night of music and fun is had by all.