Dragons' Den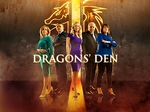 Dragons' Den returns to screens on Sunday 26th March on RTÉ One. Now in its eighth series the show will see a brand new Dragon Chanelle McCoy join the Den of Gavin Duffy, Barry O'Sullivan, Alison Cowzer and Eleanor McEvoy making it the first ever trio of women in the international history of the series.
In a further female twist to this season's Dragons' Den 22 of the 38 business pitches come from women, many of whom were young, dynamic first timers.
Chanelle McCoy is Director of Medical Business of The Chanelle Group a privately owned company, founded by her father veterinary surgeon, Michael Burke in 1985. Chanelle Pharmaceuticals Manufacturing Ltd specialises in the development, production, marketing and distribution of generic animal and human pharmaceutical products. Away from the Chanelle Group, Chanelle invests in her second love fashion retail opening her own retail boutiques and online Mojo and McCoy in Berkshire where she lives. Chanelle splits her week between Group HQ in Loughrea and the UK.
The spirit of innovation is alive and kicking with a surprising number of pitches on the new series coming from a wide range of young people under 30. This series will see some unique inventions and broad range of products and services such as food, cosmetics, pets, well-being, medical needs and fashion pitched to the Dragons.
But will the Dragons invest? And if more than one Dragon is interested who will come out on top? The Dragons have turned up the heat in the Den and are ready to go head to head to secure the best investments.
Dragons' Den is produced by ShinAwil for RTÉ.
/ENDS/
For further information / interviews / images please contact:
Deirdre Crookes on: deirdre@lhpublicity.ie | 01 497 0313 / 087 221 0550
Barry O'Sullivan is CEO of Altocloud, a Silicon Valley technology company which is based in Galway and San Francisco. With over 25 years of experience in communications technology and services Barry brings his leadership and entrepreneurial passion for understanding customer needs together with a wealth of experience in breakthrough real-time telecommunications, rich-media technology, data analysis, and mobile and web platforms.
He joined Altocloud from Cisco where he was Senior Vice President and led Cisco's Collaboration and Unified Communications businesses for over 10 years, which he grew from $100m to over $4 billion. In 2012, Barry joined Dragons' Den. This will be his third year on the Den.
Eleanor McEvoy is the Founder and CEO of Budget Energy Ltd, one of the leading providers of low cost electricity in the Northern Ireland market with over 65,000 residential and commercial customers. Since 1991, she has successfully built and sold two companies, vending company Pembroke Distributors Ltd in 2001, and Phonecard Warehouse Ltd, which had a turnover of £50 million when it was sold in 2006. Eleanor is a Visiting Professor of Entrepreneurship at Ulster University and has reached the finals of Ernst & Young Entrepreneurs of the Year twice, in 2004 and 2013. This is Eleanor's second year as a Dragon.
Alison Cowzer is co-founder and Marketing/Innovation Director of East Coast Bakehouse, Ireland's only large scale biscuit manufacturing business based in Drogheda. She is also co-founder and Managing Director of 'The Company of Food', a specialist food investment business. Prior to this she has worked in a number of roles in marketing and general management at the Jacob Fruitfield Food Group. Earlier in her career she held marketing and general management positions in Fruitfield Foods, L'Oreal UK and Tedcastles Oil. Alison is a board member of Ronald Mc Donald House Charity, and advisory board member of GOAL. This is Alison's second year as a Dragon.
Gavin Duffy returns for the eighth series of Dragons' Den having been there from when the show first aired in 2009. He is best known for taking businesses from concept in the Den to success in retail or online in just a matter of months. While Gavin has been at the pulse of the Media & Communications industry for many years, he was reared in the hospitality and retail business with his family running pubs, restaurants and shops.
In 2004, LMFM which he founded was sold to UTV for €11 million. In 1992 he founded his Media Consultancy business Dorland which owns www.mediatraining.ie. Dorland is the leading consultancy helping Senior Executives to communicate their business messages internally and externally. He also successfully invested in a number of companies and start ups and remains part owner of the HRM Group of Companies, one Ireland's biggest players in recruitment.