Don't Tell the Bride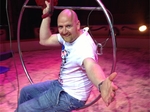 Don't Tell The Bride is back with a brand new series. Six more blushing brides leave the biggest day of their lives in the hands of the men they love. The groom gets ten thousand euro and three weeks and the bride gets NO say in how it's spent.
It's all tears - tantrums - and total meltdowns.
If you are interested in talking to us please contact COCO TV on (01) 497 0817 or email info@cocotelevision.ie

Follow us on Twitter - https://twitter.com/#!/dttb
#dttb

Don't Tell the Bride, produced by COCO Television for RTÉ.
Season 5
Episode 1: Amanda & Richie
This week - born entertainer Richie wants his wedding to be the Greatest Show on Earth... He's going all out with a circus theme wedding in a field. He wants to organize a tent complete with fire eaters, lion tamers, tight rope walkers.. the lot!
Both born and raised in Donameade in Dublin - Richie and Amanda first got together when he was 21 and she was just 16 .
They spent four years apart - until their relationship received some much needed 'parental guidance' and they reunited.
Richie wants to celebrate his wedding like nobody else. But bride-to-be Amanda just wants a wedding that shows that Richie really knows her, she wants a special day that's classy and sophisticated.
Can Richie really deliver a dream wedding?
Get ready to rock as this party reaches new highs. And sinks to new lows. Just don't tell the bride!
Amanda & Richie - Contact List
Ceremony Venue: The Station House, Kilmessan, Co.Meath
Tel: 046 9025239 www.stationhousehotel.ie
Wedding Venue: Fossetts Circus - Tel: 1890 247 287
Dream Venue: Seafield Golf & Spa Hotel, Ballymoney, Gorey, Co. Wexford
Tel: 053-9424000 www.seafieldhotel.com
Wedding Suit: The Bridal Outlet, Unit 9 Abbey Business Park, Baldoyle Industrial Estate
Dublin 13, Tel: 01 8395358 www.bridaloutletireland.com
Dream Wedding Dress: Marie McElheron Bridal, Abbey Lane, Arklow, Co. Wicklow
Tel: 0402-32818 www.mariemcelheron.ie
Wedding Dress Bought: Abelle Bridal, Finnegans Way, Trim, Co. Meath
Tel: 046-9483644 www.abellebridal.com

Wedding Dress Alterations: Evelyn Campbell Couture, Design Centre, Main Street, Bray
Co. Wicklow. Tel: 086-1714349
http://evelyncampbellcouture.wordpress.com/
Bridesmaid Dress: Evelyn Campbell Couture Design Centre, Main Street, Bray
Co. Wicklow. Tel: 086-1714349 www.facebook.com/evelyncampbellcouture
Stag Party: The Zone, Mullaghboy Industrial Estate, Navan, Co. Meath
Tel: 046 9071623 www.thezone.ie
Dicey's Garden, 21-25 Harcourt Street, Dublin 2
Tel: 01-4784841 www.russellcourthotel.ie
Hen Party: Aerial Cirque, 10 Exchequer Street, Dublin 2
Tel:+353 831490911 www.aerialcirque.org
Thunder Road Café, 52 Fleet Street, Dublin
Tel:01 6794057 www.thunderroadcafe.com
Wedding Car Hire: Joseph McAvera, Chauffeur Services, Baldoyle, Dublin
Tel: 087-2582170
Hair and Make-up Bridal Party:
Sharon Kehoe Tel: 086-3561593
Sheena O' Brien Tel: 085-7227233
DJ: Mark Neilon www.stardjs.ie
Other:

Maud's Ice Cream Parlour, Harbour Road, Howth, Co. Dublin
Tel: 01-8395450
Cakey Wakey. Tel: 087-6576395 www.cakeywakey.ie
Westport House, Westport, Co. Mayo
Tel: 098 27766 www.westporthouse.ie
Irish Rail www.irishrail.ie
Vine House Catering
Tel: 042 9379434 www.vinehousecatering.com
Balloon Man, Rockford House, Dean's Grange Rd, Deansgrange, Blackrock, Dublin
Tel: 01 2957522 www.balloonman.ie
Annie Bloom Florist, Unit 4 Magic Carpet Centre, Cornelscourt, Co. Dublin
Tel: 01-2898899 www.anniebloom.ie
Episode 2: Jamie Parker and Danielle Reilly
Danielle originally from Finea in Cavan (30) and Jamie from Edgeworthstown (31) have been together for over five years. The young couple who are drift racing fanatics met at a local car show.

Danielle is the organiser in their lives and has always dreamed of the perfect Cinderella wedding. Loving all things girlie and having spent more than two years searching through bridal magazines for inspiration, it will be Jamie taking the reigns of this wedding and placing his mark on the occasion.

Jamie is quite the practical joker at heart and loves nothing more than winding up his future bride and mother-in-law. A secret Country Western lover, Jamie has a list of surprises up his sleeve and calls in some favours from Country Western royalty, but will he pull it all off in time for his princess bride?
Jamie and Danielle - Contact List
Ceremony Venue:
Abbeyshrule Airfield,
Abbeyshrule.,
Co. Longford
Tel: 044-9357742
www.fastwindow.ie/abbeyshrule
Wedding Venue:
The Rustic Inn,
Abbeyshrule,
Co. Longford
Tel: 044-9357424
Dream Venue:
Crover House Hotel
Lough Sheelin,
Crover,
Mountnugent,
Co. Cavan
Tel: 049-8540206
www.croverhousehotel.ie
Wedding Suit:
Matt O' Brien's Fashions
32 Ballymahon Street,
Longford,
Co. Longford
Tel: 043-3345829
www.mattobrienfashions.ie
Dream Wedding Dress:
The White Room
23D Lough Sheever Corporate Park
Robinstown,
Mullingar
Co. Westmeath
Tel: 044-9347661
www.thewhiteroom.ie
Wedding Dress Bought:
Alice Ann Bridal,
9 Grafton Court,
Longford
Co. Longford
Tel: 043-3336608
https://www.facebook.com/pages/Alice-Ann-Bridal-Fabric-House
Bridesmaid Dress:
Dolls Boutique
Dublin Street,
Longford,
Co. Longford
Stag Party:
Drumcoura Lake Resort/Western Equestrian Ranch Style
Derrygoan,
Ballinmore,
Co. Leitrim
Tel: 071-9645781
www.drumcoura.ie

Hen Party:
Carrick Quads,
Springfield,
Carrick-On-Shannon,
Co.Leitrim
Tel: 086-7908777/086-6084446
www.carrickquads.com
Golden Sea Chinese Restaurant
Sligo Road,
Carrick-On-Shannon
Co. Leitrim
Tel: 071-9621788
Wedding Transport Kenworth Lorry:
Desmond Green
Tel:086-2580435
Hair and Make-up Bridal Party:
Panache Health & Beauty
Main St, Granard,
Co. Longford
Tel: 043-6687918
Teresa Hannon
Tel: 083-4476636
https://www.facebook.com/teri.hn.7

Band:
The Jam Van Paddys
https://www.facebook.com/pages/The-Jam-Van-Paddys/210995905770880
Other:
Jessie's Cake Creations
Killoe,
Longford
Tel: 086-8553754
https://www.facebook.com/JessiesCakes
Rodeo Bull & Props x
Momentum Events Company Limited
Unit B Kilmacthomas Business Centre,
Kilmacthomas,
Waterford
Tel: 1890 268623
www.firstclasscastles.com
The Tandem Skydive Club Ireland
Abbeyshrule Aerodome
Abbeyshrule
Co. Longford
Tel: 0818438663
www.tandemskydive.ie
Tandem Master who Skydived with Danielle, Karl Carey of Skydive4Charity.ie
Village Flowers
Mary St,
Drumlish,
Co.Longford
Tel: 043-3329687
www.villageflowers.ie
Cogan Pictures
Wedding Videographer
Tel: 086-8873204
My Fancy Dress: Fancy Dress costumes
www.myfancydress.ie
Garth Brooks Impersonator
Billy Sullivan
087-6445314
ThePartyBuses.com
Gerard Mc Elwee
Tel: 087-9228072