Don't Tell the Bride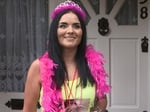 Every girl dreams of organising the biggest day of her life...her wedding...

So want happens when she has No say on her big day.

Don't Tell The Bride is BACK with a Brand New Series.

As ever the Grooms are in charge, with 10,000 euro and Just 3 weeks!

Have the grooms pushed themselves too far?

Will there be a happy ever after.

Or Is it a countdown to disaster?
Watch RTÉ2 in January 2016 to find out!

If you are interested in talking to us please contact COCO TV on (01) 497 0817 or email [email protected]

Follow us on Twitter - https://twitter.com/#!/dttb
#dttb

Don't Tell the Bride, produced by COCO Television for RTÉ.
Season 6
Episode 1
Noel O'Keefe and Wendy Leonard from Shankill in County Dublin have been madly in love from the moment they met.

It's safe to say they aren't rushing into marriage having been together for over 13 years. This couple have never lost their sparkle, which is more than you can say for Wendy and her engagement rings, she's already lost two of them and Noel is hoping that she manages to keep hold of the third one!

Aside from Wendy the other thing that Noel is madly, passionately, and deeply in love with is Mixed Martial Arts and he gets to spend plenty of time cage side for his job as a Mixed Martial Arts announcer.

While Wendy dreams of a ceremony in a castle, Noels ideal place for a wedding is an octagon where men try to knock seven bells out of each other. Wendy isn't mad about the fighting but what she really hates are the 'ring girls' who announce the rounds wearing big smiles and little bikinis!!

But in spite of his passion for blood, sweat & fisty cuffs, deep down Noel is a romantic at heart and he's planning on putting everything he can into creating the wedding of his dreams, which he's sure his bride will like too!! Ekk!

He's got a vision for his wedding it might be Epic, Unique, VIP, Fight club meets Vegas in his imagination, but can he pull it off in reality? Along the way there's dress drama, a hen party put through their paces by a ten year old, very bad dancing and a lack of transport.


Watch this space as the new series of Don't Tell The Bride airs early 2016 on RTÉ2.

Episode 2
Two years ago - 35 year old Krista liked what she saw when she spotted 28 year old Craig on Facebook. And that moment grew into a modern day love story. Krista and Craig are very much in love. Craig describes Krista as a Gillette woman, "the best a man could get".
So how will Boss Krista cope leaving the biggest day of her life in the hands of her toyboy Craig?
For Craig, his first true love is tropical fish and this groom was first planing to vow his guests by throwing his Bride 5 metres underwater and into a shark tank!
"I'm not doing what Krista thinks she wants..I'm doing what I know what Krista wants" Yikes!
Unfortunately, Bride Krista doesn't share the same love of marine life.
"I hate fish - This wedding better not involve fish"
This bride yearns for a private, classy, luxurious day near the countryside.
So can Craig win Krista over with a Water themed wedding
in Dublin's Fair city? And a stag party that blows the budget on the first week!
Can this fish loving man
Give this classy lady
Her dream wedding.
Episode 3
25 year old Enda and 23 year old Lisa first got together in a Wexford nightclub four years ago. Soon Lisa and her "Teddy Bear" Enda were inseparable. They moved in together - a big move for their relationship - but a small move in terms of distance."we live in a Granny flat right beside my Mum" says Lisa.
No-one really knows how good Enda will be - because in this relationship - Lisa does everything.
And watching Enda is a man who takes his daughter's happiness Very seriously. "If Princess is annoyed - Daddy's annoyed." Bride's Dad - Stephen says.
So with the help of his trusty Best man John - Enda sets on a mission to create a Hollywood themed wedding in the centre of Gorey!
Lisa's dreams are along way from Hollywood Boulevard, she dreams of an exclusive private house in the countryside, quiet roads and beautiful scenic views.
Lisa's rules are simple - No gawdy themes, nothing in the centre of town, and not an outdoor wedding. Unluckily for her...she gets all THREE on her wedding day!!
With a high flying chopper, an all out Hollywood theme and a ceremony in a field - will it finally throw "Queen" Lisa over the edge and off her throne??
Episode 4
Ian and Nikki, Lusk, Co.Dublin
Dubliner Ian and Mayo woman Nikki have been madly in love since their eyes met across a tow truck four years ago.
Ian is a mechanic and Nikki is a Garda and cupid struck when Ian was towing cars away for the Gardaí. He spotted Nikki and called into her station the following day to leave in his particulars and the rest as they say is history! They live together in Lusk, Co. Dublin with their son Alfie.
Aside from Nikki - cars, boats, jet skis - in fact anything with an engine are Ian's other true loves and he thinks a wedding in a pit garage a is 'the picture perfect' setting for the most important day of their lives..!!
Nikki is a girl with different ideas - she wants a castle, a princess style ball gown dress and lots of pink on her special day.
Having left the most important day of her life to her car mad fiancé - Nikki is about to find out that dreams often don't come true. For Ian it's a chance for him and Best Man Beezo to indulge their true love of cars and mess with Nikki's nerves.
There are tow trucks, racetracks, donuts and hand-break turns, clowns, bridesmaids in black, a boat and possibly the worst wedding suits ever. It just might be that the only thing that can save Ian from himself is a wedding invitation delivered by the brides other true love Nathan Carter..
Watch this episode Thursday 11th February 2016 @ 9.30pm on RTÉ2