Don't Tell the Bride (Series 1)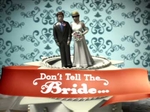 Don't Tell the Bride, the successful UK format, is coming to RTÉ Two this April 18th at 9.55pm. COCO Television has bought the format for Ireland and is currently filming with six couples around the country.
The concept of the series is that a couple, who are madly in love and can't afford to marry, are given 10k for the wedding of their dreams. But there's a catch, a very big catch. They must get married within three weeks and the groom has to arrange everything, from the dress to the venue. He and his bride are contractually bound to have no contact until the big day.
The couples hand over their mobile phones and sign a contract, in the presence of a lawyer, before separating for the three weeks the groom has to organise the wedding.
His best man and groomsmen can help with all the arrangements and the choosing of the wedding dress, but at the end of the day it's his bride he is aiming to please.
There are six episodes in this run of the series featuring couples from Dublin, Sligo, Cork, Donegal, Meath and Carlow. Some of the couples have cancelled previous wedding dates due to redundancy, others just haven't been able to get it together to get wed.
Within the series we see a couple from Dublin, who've intended to marry three times before, get married in a land mark venue that's never before hosted a wedding. One bride gets a helicopter ride to her local church, while a groom makes a disasterous decision about the wedding reception.
There are tears and tantrums throughout, but always a happy ending.
Don't Tell the Bride RTÉ Two on April 18th at 9.55pm
Programmes
Episode One
Finbar O'Grady (27) is originally from Sligo but has lived in Dublin since he was 16. He is a butcher and has worked in Troys in Moore street for the past 7 years. He's lively and funny and reckons he can organise their wedding in "a week and a half..tops!" He's quite a lad and reckons it will all be really easy and he'll have time in the three weeks to put his feet up. He'll probably find a venue outside of Dublin because "it will be cheaper". That seems to be the theme he is following.
Suzanne Hickey (26) is from Tallaght and the youngest of three daughters. She's very close to her family and sees her mother every day (she has a very large extended family). She works in a corporate travel agency in Walkinstown and is without doubt the organiser in her own home. Finbar accuses her of hiding things on him when she tidies his stuff away. She's traditional and wants all the things a bride wants on the day. She's very worried about the dress being horrible and not fitting. She's also concerned that Finbar has no clue what's involved in organising the wedding.
Click here to find out more about everything featured in Episode 1...
Episode Two
John Masterson and Nicola O'Hagan live in Mullingar and met on Facebook three years ago. John is determined to organise a dream wedding for the love of his life - Nicola is laid back but definitely knows what she wants - will he organise the small wedding that Nicola dreams of or will he organise the big wedding she doesn't want?
Each couple are given €10,000 for their dream wedding but the only catch is that the groom has to organise everything and within a three week deadline. So that means he has to buy the wedding dress, choose the venue, organise the flowers, buy the bridesmaids dresses, sort the transport & music - the list is endless. Normally a wedding takes up to a year to organise with most of the input coming from the bride and indeed the bride's mother!
The couple have to sign a contract in the presence of a lawyer, where they agree to no communication within the three week time frame. So that means no phone calls, no emails, no snail mail.
Will the groom manage to pull it off on budget and within the timeframe? Has he thought of everything on that long list? Will the invites get there on time? Will the dress fit the bride? Will she like the venue? Will his mother-in-law stay out of his way?! And most importantly will the bride be happy? All will be revealed..
Click here to find out more about everything featured in Episode 2...
Episode Three
Gary has been with Debbie for 10 years. He and Debbie have cancelled their wedding plans three times. Firstly with their two unplanned pregnancies (now two boys aged 7 and 8) and then when his father died. He is incredibly excited about the prospect of organising this wedding. He had a well paid job prior to the recession and is now unemployed and simply can't afford a wedding. But he still has expensive and flamboyant tastes. He's very involved with training the local GAA juniors and according to Debbie is a great Dad.
Debbie is stay at home mum. She's very practical about money and isn't as concerned as Gary about how their life has changed since he lost his income. They are a very sparkly pair together, a lot of fun, and clearly know one another well. She knows if they don't get married now they never will. They had 150 people at their first son's christening. Community is very important to both of them. She's close to her family, as Gary is, and they all live locally.
Click here to find out more about everything featured in Episode 3...
Episode Four
Aaron & Deirdre probably have the most diverse ideas of what their wedding should be like of all our couples. Aaron hates weddings and wants their one to be "different" with drummers and fire eaters and all day entertainment. Deirdre admits to being quite a little princess and wants a fairy tale wedding. She wants traditional and is seriously worried that Aaron will turn it into a circus!
They have been together for the past six years and currently live in Clonakilty with their 18 month old daughter Annabelle, where they both currently live. They met in a nightclub in Bantry. They've been engaged two years and had planned to get married last December but had to cancel it because Aaron was out of work.
Deirdre is the chief organiser in the house - she is going to have four bridesmaids and Aaron is going to have four groomsmen. Her Bridesmaids Catherine, Lisa Marie, Lydia & Niamh have one big fear for Deirdre - they reckon she will get totally stressed because she is so used to being in control of everything.
Deirdre
Deirdre was born and bred in Bantry. She has three brothers so is the only girl and will be the first wedding in the family. She definitely wears the trousers in this relationship. She admits to being a list maker and literally does a list for everything in her life.
She dreams of a wedding in a castle and would love to get married in a fairytale environment. She'd like a big banqueting hall with a 'King & Queen' look. She's had weddings on her mind for a while as when she was in Australia (where she lived with Aaron for two years) she tried on various wedding dresses and thought she'd like a big meringue! She's now changed her mind but definitely doesn't want something too simple as she is a bling type of girl - attention to detail is what it is all about for Deirdre.
Deirdre plans to stay at home with Annabele in Clonakilty and Aaron moves back in his parents in Bantry for the three weeks.
Aaron
Aaron is originally from Maynooth. His family moved to Bantry eight years ago. Aaron followed them down when he was 19 years old. He has worked mainly as a salesman. However he packed up his job in sales and after a failed attempt to set up a company with his brother decided to go back to College and is now doing social studies. He said that this is quite typical of him to change direction in the spur of the moment.
Deirdre describes him as being weird and he'd agree with this description of himself. He wanted a chimp to walk them up the aisle with the wedding rings! His biggest fear is finding the right wedding dress. He says that Deirdre is very picky and isn't happy if things don't go her way! He's determined to have a wedding that's different to all the weddings he's been to.
Click here to find out more about everything featured in Episode 4...
Episode Five
Austin is 28 and works in his father's stationery company in Clontarf in Dublin. He considers himself to be a wheeler dealer and capable of pulling off a great day for Niamh. However he is more a philosopher in reality and very laid back. He is likely to go completely OTT with the wedding dress. His main hobbies are Facebook, talking to people and playing poker! He's worried about being without Niamh for the three weeks, she does everything including making sure he gets up for work in the mornings! - Austin when he is stressed sleeps & sleeps more! They are a particularly close couple - they would talk to each other about 4-5 times a day!
Niamh is a personal care assistant. Niamh and Austin have been together for 5 years. She wants the whole deal! Niamh is bonkers about pink and has been dreaming of her wedding day since she was very young!! She also wants lots of guests, she is very girly and will have four bridesmaids.
Niamh is known for being is quite the princess. She left Austin a song on Youtube for each day of them being separated which he listened to everyday while they were apart - they are an extremly connected couple. She is worried he will get the dress totally wrong and as she says herself - if he does he will be paying for it for the next 50 years! Niamh is also worried that Scott (Austins Brother & Bestman) will lead Austin astray while they are organising the wedding.
Click here to find out more about everything featured in Episode 5...
Episode Six
Lee Doyle
Lee is originally from Co. Tipperary, is a huge GAA supporter and would like to bring this theme into the wedding. He is a fully qualified carpenter who has a passion for reptiles and is completely obsessed about the Tipperary hurling team!
He admits to not being very romantic but adores Rebecca and their daughter Faith. Lee has never organised anything before but doesn't seem too daunted by the idea of organising one of the most important days of their lives.
Rebecca Kenny
Rebecca is originally from Carlow town. She admits to being a control freak and the main organiser around the house. Her friends say she's very fussy about her clothes, so they don't think she'll cope very well with not organising anything for the big day!
Lee's sister is worried about Lee's ability to organise a wedding and doesn't think that he'll get great back up from the groomsmen! Will Lee manage to organise everything in time or will Rebecca be disappointed on her big day?
Click here to find out more about everything featured in Episode 6....